Astronomers Plan Crowdsourced Megamovie of 2017 Solar Eclipse
Wanted: 10,000 amateur astronomers to take pictures of the 2017 solar eclipse
Crowdsourced astronomy is an area of growing interest. On this blog, we've looked at a number of crowdsourced projects, such as one that mapped the asteroid Tercidina as it passed in front of a star in 2002 and another that determined the orbit of Comet 17P/Holmes using photographs posted on the web.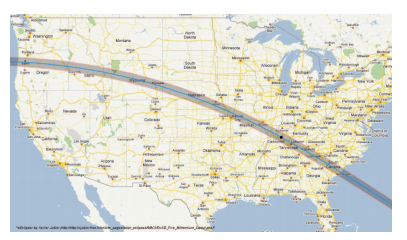 Now Hugh Hudson at the Space Sciences Laboratory, UC Berkeley, and a group of chums have announced the most ambitious crowdsourced project so far. These guys want to make a megamovie of a solar eclipse using stills taken by amateur photographers.
Their chosen eclipse is theone that will cross the continental US on 21 August 2017. "If 10,000 observers each obtained 100 frames, then we would have a million-frame movie; at standard frame rate this would take 12 hours to show, and would thus be a slow-motion representation of coronal evolution," they say. That'll be fun to make, not so much to watch.
But it could also be useful to solar scientists. Total eclipses on Earth give a particularly good view of the low corona, a region that is difficult for space-based coronagraphs to see. The megamovie should also show the deflection of starlight due to gravity, the same effect that Arthur Eddington reported in 1919 that finally confirmed Einstein's theory of general relativity.
This experiment has never been repeated in the visual part of the experiment and there is some debate now about the veracity of original result. So using crowdsourced astronomy to repeat it now would something of a feat.
During the 2017 eclipse, the Sun will be close to Regulus, the brightest star in the constellation of Leo. Its starlight will be deflected by 0.74 seconds of arc, an amount that ought to be easy to spot in a high-resolution megamovie.
Hudson and co point out some potential challenges for their project. One is the large amount of data it would generate; another is the problem of accurately registering each photograph against the background starfield. None of these seem particularly serious impediments.
A more serious problem is that these guys will be scooped. Crowdsourcing allows the very rapid development of some impressive projects.
Hudson and co have given themselves 6 years. It's more likely that we'll see a solar eclipse megamovie long before this, perhaps next year after the eclipse in northern Australia on 13 November 2012.
Ref: arxiv.org/abs/1108.3486: The U.S. Eclipse Megamovie In 2017: A White Paper On A Unique Outreach Event
Stay connected
Illustration by Rose Wong
Get the latest updates from
MIT Technology Review
Discover special offers, top stories, upcoming events, and more.