Tiny Machines Convert Sunlight Directly into Work
Small watercraft made of nanostructured materials are propelled by sunlight.
Sunlight is a major source of energy, from photovoltaics and solar-thermal units to biofuels and water-splitting. But all these technologies require intermediate steps and infrastructure to turn the sun's rays into something that can be used to perform work in a machine.
Researchers at the University of California, Berkeley have made tiny devices that directly convert sunlight into work. In a paper published online in the Journal of the American Chemical Society, they describe making small mechanical machines out of light-responsive nanomaterials. These tiny "boats" and rotors, about a centimeter in length, are propelled across liquid surfaces when illuminated. Using light for propulsion is not a new idea. NASA is currently at work on a prototype satellite that would employ solar sails to get around. The Berkeley researchers note that, while the NASA system relies on the transfer of photons' momentum, the Berkeley machines harness photons' energy, which is more powerful.
The research was lead by Jean M. J. Fréchet, professor of chemical engineering and Alex Zettl, professor of condensed matter physics. Another of Zettl's quirkier research projects is the nano radio, which we profiled in our 10 Emerging Technologies of 2008.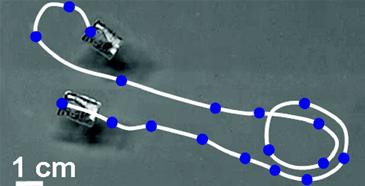 Stay connected
Illustration by Rose Wong
Get the latest updates from
MIT Technology Review
Discover special offers, top stories, upcoming events, and more.