John Ehrenfeld '53, PhD '57
Sustainability by Design offers a plan for a living planet
The aspirations of John Ehrenfeld's 2009 book are summed up by his e-mail signature: "Sustainability is the possibility that human and other life will flourish on the planet forever."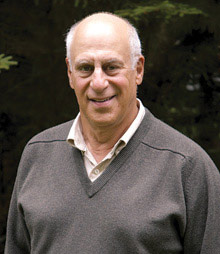 In that book, Sustainability by Design: A Subversive Strategy for Transforming Our Consumer Culture, Ehrenfeld argues that reducing the unsustainable aspects of modern society through steps such as cutting pollution is not enough—people need new ways to live that focus more on being and less on having. 
After earning his MIT degrees in chemical engineering, Ehrenfeld progressed through engineering and management posts in public and private organizations, such as Arthur D. Little, as well as teaching appointments worldwide. 
"I thought technology was going to save the world," he says. "Over time, I began to realize that it took more than good technology ideas to create the world I wanted. I fell into environmental work." 
In 1967, he founded Walden Research Corporation in Wilmington, Massachusetts. "My research company was hired to help prepare the first set of air pollution regulations for the brand-new EPA," he says. "Since then, I have continued my work on the social and regulatory side of things." After a Carter administration appointment heading the New England River Basins Commission, Ehrenfeld returned to MIT in 1986 as a lecturer and the director of the MIT Program on Technology, Business, and Environment. 
"We chose to look at organizational behavior, not just the technical side," he says. "My students and I took one question to heart: Why doesn't business do what they say they are going to do for the environment? We found there were huge differences in how corporations were employing new environmental tools—and it largely had to do with organizational barriers and power structures."
After retiring from MIT in 2000, he served as executive director of the International Society for Industrial Ecology until 2009 and continues his work there as a journal editor. He also writes a blog, Sustainability by Design. He and Andy Hoffman, SM '91, PhD '95, are working on a book sparked by Ehrenfeld's keynote at the 2011 MIT Sustainability Summit, where he discussed the evolution of sustainability as an academic field. His honors include a lifetime achievement award from the World Resources Institute.
Ehrenfeld and his wife, Ruth, live in Lexington, Massachusetts. They enjoy time with their nine grandchildren and take courses at the Harvard Institute for Learning in Retirement. "Lifelong learning is good for your health," he says. 
Stay connected
Illustration by Rose Wong
Get the latest updates from
MIT Technology Review
Discover special offers, top stories, upcoming events, and more.