The Puzzle of Particle Jets and Blast Waves
Nobody knows why particles form into jets when caught in a blast wave, but a new video casts some light on the conundrum.
One of the best ways to understand fluid motion is to record a video of the action. That has created some friendly rivalry between fluid dynamicists who compete to produce the best films of their work.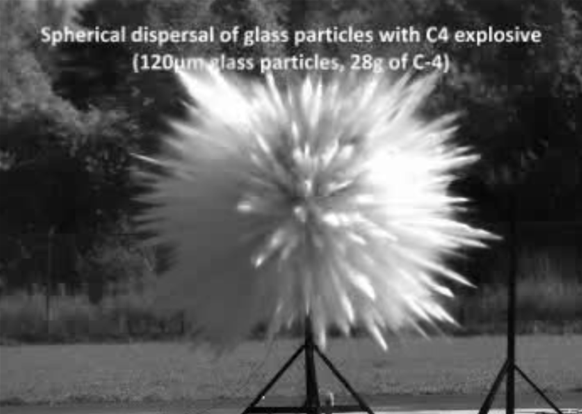 Each year, the fluid dynamics division of the American Physical Society hosts a Gallery of Fluid Motion at its annual meeting and invites researchers to submit their best reels. These guys store their videos on the arXiv, making them fair game for this blog.
In past years, we've looked at videos of the vibrations in Tibetan singing bowls, how book pages flap in the wind and a universal rule of wet-dog-shake.
It's that time of year again, so I'm keeping my eye out for the best videos submitted to this year's Gallery of Fluid Motion.
Today's pick describes an interesting puzzle that emerges from the way substances packed around explosives behave when a detonation occurs. David Frost at McGill University in Canada and a few buddies, packed millions of tiny glass spheres just a120 micrometres across around 28g ball of C4 and videoed the shape they formed as the detonation occurred using a 10,000 fps camera.
It turns out, the glass spheres form into fairly evenly-spaced jets as they are caught up in the blast wave (see picture above, video links below). Apparently, these jets are a common feature of the explosive dispersal of particles. For example, when the C4 is surrounded by water, even more jets form but these dissipate more quickly.
But curiously, Frost and co say that the highest number of jets occur when the C4 is surrounded by a mixture of water and glass beads. This, they say, is entirely unexpected.
Certain factors are known to influence 'particle jetting', as this phenomenon is called; things like particle size as well as the size and geometry of the charge.
But here's the thing: nobody really knows why the jets form at all.
An interesting mystery described in a cool video, perhaps something for a computer modeller with some spare time to take on.
Ref: arxiv.org/abs/1110.3090: Particle Jet Formation During Explosive Dispersal of Solid Particles
Hi-res video
Low-res video
Stay connected
Illustration by Rose Wong
Get the latest updates from
MIT Technology Review
Discover special offers, top stories, upcoming events, and more.