Fermi Bubbles Are Burps from a Star-Eating Black Hole
…and they may also explain the cosmic ray "knee" problem, one of astronomy's biggest mysteries.
Last year, astronomers analysing data from NASA's orbiting Fermi Gamma Ray Telescope made an extraordinary announcement. They said that Fermi had spotted two giant bubbles emanating from the centre of the galaxy, stretching some 20,000 light years above and below the galactic plane.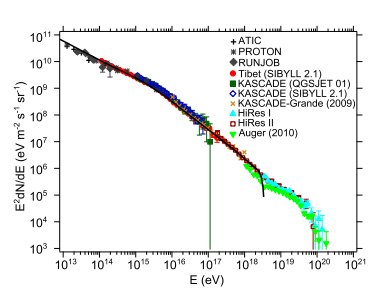 These bubbles are clearly some kind of shockwave in which high energy electrons interact with photons, giving up their energy in the form of gamma rays.
But what could have caused such a shockwave, which is many times bigger than astronomers would expect to see from a supernova?
Today, Kwong Sang Chen at The University of Hong Kong and a few pals say think they know. They say the bubbles are the remnants of stars that have been eaten by the supermassive black hole at the centre of the galaxy. What's this idea may also explain the energy distribution of cosmic rays, which astronomers have puzzled over for decades.
Our galaxy's supermassive black hole is, well, huge–some 4 million times more massive than the Sun. Chen and co assume that a star falls into it every 1000 years or so. When this happens, part of the star is devoured by the black hole, while the rest is burped back out into space in the form of high energy protons.
These protons heat up the gas and dust surrounding the black hole creating an expanding bubble of high energy electrons. This cannot expand far in the plane of the galaxy where it is absorbed.
But the electrons can travel far into the space above and below the galactic plane, creating the gamma ray bubbles seen by Fermi. This explains why the edge of the bubble is so well defined.
But it also explains another of the great puzzles that astronomers are sweating over: the strange energy distribution of cosmic rays.
It's easy to imagine that higher energy cosmic rays ought to be rarer than lower energy ones. But when astronomers plot the number of cosmic rays against energy, there are far more high energy ones than there ought to be. These form a 'knee' in the graph, hence the name of the problem.
Chen and co's model explains this knee. They say the extra high energy cosmic rays must be protons created during this star-eating process that have made their way to Earth.
So it is the sheer size and energy of the black hole burp that generates the extra high energy protons in the spectrum.
A convincing argument that kills two birds with one stone.
Ref: arxiv.org/abs/1109.6087: Fermi Bubbles as a Result of Star Capture in the Galactic Center
Stay connected
Illustration by Rose Wong
Get the latest updates from
MIT Technology Review
Discover special offers, top stories, upcoming events, and more.