How Much Is a User Worth?
Several upstart Internet companies have shown promise in being able to translate user engagement into revenue.
Internet companies are notoriously difficult to value, as investors learned in the dot-com crash 11 years ago. But since the "Web 2.0" companies fueling this year's Internet IPOs rely upon having a reliable group of engaged users, they do offer at least one telling metric: the amount of money each user is worth. That's why venture capitalists evaluating such businesses in their early stages often examine how much revenue a company is generating per user.
Bijan Sabet, a venture capitalist at Spark Capital, which has invested in several Internet companies, including Twitter, FourSquare, and Tumblr, says his firm often considers $2 of annual revenue per user to be an important target threshold for startups. By that measure, several of today's new Web companies show genuine promise, as the chart below indicates.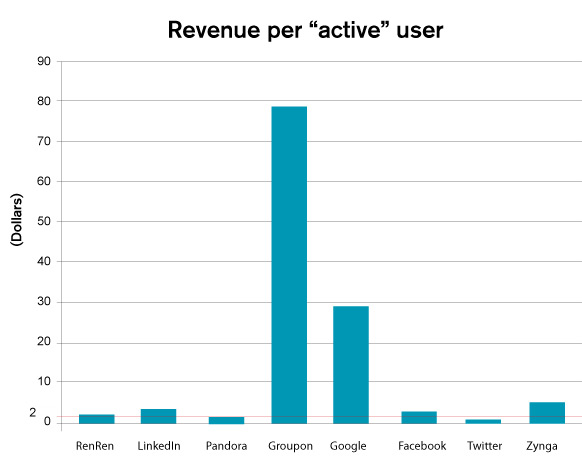 Footnotes: 1.) The figure for Google users refers to the number of unique monthly search users, which doesn't reflect all the people that see its ads and use its services. 2.) The figure for Groupon users refers to reported "cumulative customers" in 2010. 3.) The figure for active Zynga users refers to "monthly unique users" from October through December 2010. 4.) The figure for active Twitter users refers to a recent report from Business Insider that found that only 21 million Twitter users follow 32 or more accounts. Twitter considers an "active" user to be someone who is following 30 accounts, with a third of those accounts following back. 5.) Revenue figures for Facebook and Twitter are based on estimates from eMarketer, a research firm. 6.) Revenue figures for Zynga and Groupon come from their IPO filings with the Securities and Exchange Commission.
It's worth noting that Groupon is an outlier largely because its users buy things from the company rather than serving solely as targets for ads. And of course, revenue per user isn't an absolute measure of a company's prospects: after all, Google is the world's most profitable and valuable Internet company not only because it has a lot of revenue per user, but also because it has a vast number of users. Sheer scale is also a reason for the soaring valuation of Facebook, which now boasts 750 million users. However, by the time public investors get a chance to buy a piece of the company, they'll have to decide whether its metrics really justify the price, or whether they foreshadow another bursting bubble.
Footnotes: 1.) Public company values are based on closing prices on July 8. 2.) The values for Zynga and Groupon are what each company hopes to attain after its upcoming IPO, according to the Wall Street Journal. 3.) The values for Facebook and Twitter are based on the last round of funding each company has raised, according to the Journal, and recent trades on a private exchange, SharesPost.
Stay connected
Illustration by Rose Wong
Get the latest updates from
MIT Technology Review
Discover special offers, top stories, upcoming events, and more.