Credit Card with a Computer Inside
A smarter credit card could mean new security features and other functionality.
A programmable credit card can display useful information, offer added security features, and even act as several different cards by rewriting its own magnetic strip.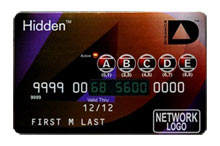 Two types of programmable credit cards were unveiled this week at the DEMO conference in Santa Clara, California, by Dynamics, a startup based in Pittsburgh that's been developing the technology in stealth mode for three years. The company raised $5.7 million of funding last year.
The new cards are no bigger than the one in your wallet, and is actually slightly more flexible. It can display information at the press of a button, and can become several different cards by rewriting its own magnetic strip.
The "MultiAccount" card has two buttons on its face, each with an indicator light that can be pressed to record data to its magnetic strip. "One might switch the card to be your debit card, and the other your credit card," says Dynamics CEO Jeff Mullen. "These cards are exactly the same size and thickness of a conventional card, and the lithium-polymer battery inside can last four years under high usage. They're also fully waterproof, so you can put them through the washing machine."
The "Hidden" card features a keypad and black-and-white display for six of the digits in the card's unique number. Once the correct PIN is entered on the card's four buttons, the missing digits are filled in and the card's magnetic strip is populated with data. Both the digits and the strip become blank again after a short time. "If this card is lost, it's just dead plastic to anyone who finds it," says Mullen, who thinks it could help banks attract security-conscious consumers.
That may be true, says Avivah Litan, a Gartner analyst who researches security and technology in the financial sector, but "most card data is stolen electronically, in large volumes," she notes. As a result, banks "may prevent a few percentage points [of fraud], but it seems unlikely to be worth the investment for them."
The MultiAccount card may be more attractive to the financial sector than the "Hidden" card. "It could help the very large card issuers, such as Chase, that have a lot of overlap between their credit and debit accounts," says Litan. However, convincing banks to invest in an unproven technology will require the potential for a very strong effect on their bottom lines, she says.
Mullen says Dynamics's cards are significantly more expensive to produce than standard credit cards, but argues that the additional cost is offset by the benefits to a bank. "These cards are significant revenue generators for them, not cost centers," he says.
Banks already target different types of cards to particular demographics, and use reward schemes to attract new business and encourage heavy use of their products. Cards with computational smarts inside could enable more of that, Mullen argues. For example, a credit card that can suddenly act as a loyalty card might encourage customers to use a scheme that they otherwise wouldn't.
"Cards with this technology have been used in large numbers in stealth trials in the U.S. since earlier this year," says Mullen, who adds that banking partners will begin talking about their plans for the technology in coming months. A particular attraction for banks, he says, is that the cards are compatible with existing infrastructure, unlike contactless payments based on RFID chips.
"There are 16 million magnetic stripe readers in the world," he says. "It's hard to change that, but easy to upgrade your own cards without building new infrastructure."
Dynamics is also working on cards that include E Ink-style displays that remain switched on for longer periods, and the company is also investigating a card that can transfer more data. Typically only a third of the magnetic strip on a card carries the card's details, says Mullen. "You can send messages between card and reader using the rest of that area."
Stay connected
Illustration by Rose Wong
Get the latest updates from
MIT Technology Review
Discover special offers, top stories, upcoming events, and more.