Speeding Up Diagnosis of Infectious Disease
A startup is developing sequencing-based tests that could detect infections within 24 hours.
Current methods of diagnosing an infectious disease can take days to weeks. Now a Cambridge, MA-based startup called Pathogenica is developing a way to do it within a day–by reading the DNA sequence of pathogens.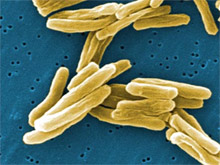 Pathogenica is developing diagnostic tests designed to detect harmful microorganisms by zeroing in on the genes responsible for their harmful effects or their resistance to certain drugs. The company will initially focus on detecting the bacteria that cause urinary tract infections, and aims to have a product approved by the U.S. Food and Drug Administration by the end of 2012, with a target of $10 per test.
The cost of DNA sequencing has dropped exponentially in the last few years, thanks to new technologies. These new methods have been used to sequence human genomes, and they've also been used as part of public health efforts to detect the emergence of novel pathogens, such as the H1N1 virus. But for the most part, these technologies have not yet made their way into routine medical care. Pathogenica aims to change that by combining cheaper sequencing with new approaches to isolate specific pieces of the genome, such as the genes involved in an organism's ability to infect its host and cause harm.
"[Sequencing] allows the diagnostician the possibility of casting a very wide net and even to detect unsuspected dual or triple infections," says Ruben Donis, chief of the molecular genetics branch at the Centers for Disease Control and Prevention.
Today, physicians diagnose an infection by collecting a sample from a patient, growing the pathogens, and then identifying them by their appearance or the conditions under which they grow. But this approach is time-consuming and only works for a fraction of microbes. "The majority require days to get a result, which is frequently too late," says Ian Lipkin, an infectious-disease specialist at Columbia University. Lipkin is a member of Pathogenica's advisory board. Faster detection would help physicians distinguish between different infections that have similar symptoms but require different treatments, such as viral and bacterial meningitis.
A growing number of pathogens can be detected using so-called molecular tests, developed over the last decade, which identify microbes by isolating and amplifying specific chunks of DNA. Molecular testing is much faster than culture methods, and has improved medical care by letting doctors correctly diagnose a disease and begin treatment before a patient even leaves the doctor's office, says Lipkin. "But directly sequencing DNA is much more precise," he says. Sequencing also lets scientists search for multiple microbes simultaneously.
Sequencing the genes responsible for drug-resistance will let physicians immediately determine which antibiotics a microbe is immune to, helping them choose the most effective drugs from the start. "The standard of the field is to identify the species, rather than the [genetic variations] that cause them to be pathogenic or drug-resistant," says George Church, a geneticist at Harvard Medical School who sits on the company's science advisory board.
Tools that could quickly and cheaply monitor pathogens would also be useful in confirming the role of infectious microbes in other diseases, such as autoimmune disease, encephalitis, and some cancers, says Lipkin. Cervical cancer and some types of oral cancers, for example, are now known to be linked to the human papillomavirus.
Stay connected
Illustration by Rose Wong
Get the latest updates from
MIT Technology Review
Discover special offers, top stories, upcoming events, and more.