Treating Cockroach Phobia With Augmented Reality
Dropping fake cockroaches into the real world shows how uniquely convincing augmented reality can be.
Augmented reality–overlaying the virtual world on top of the real world–has been used in everything from neurosurgery to iPhone apps. But until researchers at the Spanish Universitat Jaume got the bright idea to simulate hoards of cockroaches swarming over insect-phobic volunteers, no one had thought to use it as part of what's known as exposure therapy.
In exposure therapy, the phobic person puts him or herself in the presence of whatever they fear–heights, spiders, etc.–until, through habituation, they lose their fear of that situation or object. The literature shows that exposure therapy works, but it has problems–for one, people who qualify as clinically phobic will often drop out of treatment when their psychologist tells them they've got to confront whatever their worst fear.
Augmented reality for exposure therapy promises to change this. Like Virtual Reality, which has been successfully used to treat phobias including fear of heights and spiders, patients seem to be more receptive to engaging the fantasy of their fear than the real thing.
Treating Cockroach Phobia With Augmented Reality describes, for the first time, a trial of augmented reality with a small group of people who all presented clinically significant levels of cockroach phobia. These six women reported problems that ranged from wanting to sell their apartments because they'd seen a cockroach or two in them to once spending two hours on top of a table, waiting for friends to arrive, after seeing a cockroach on the floor.
The system uses a typical VR google headset - the kind that completely obscures the wearer's vision - coupled to a 6DOF, or six degrees of freedom tracking system which allows the computer to know exactly the location and orientation of a wearer's head, so that it can line up the virtual world with the real.
Combined with a camera on the front of the headset, the system allows researchers to show wearers both the real world and realistic cockroaches. The paper reports that the roaches could skitter, wave their antenna, and even change size from small and medium to hideously large.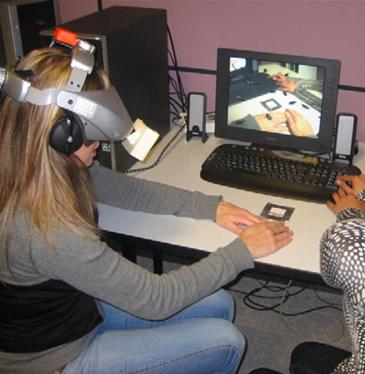 Patients were exposed, over the course of a single three hour session, to anything from a single stationary cockroach to up to 60 swarming, skittering bugs.
The results were a stunning: Study subjects went from a phobia so profound that it interfered with their lives to passing a "test" that involved walking into a room containing a cockroach in a tupperware container, removing its lid and placing their hand in it for at least a few seconds.
This work raises the possibility that augmented reality may be uniquely useful in treating phobias precisely because the fusion of the real and virtual worlds is so convincing - further suggesting that augmented reality will be particularly compelling in countless other applications, from manufacturing and education to gaming and… other entertainments.
Stay connected
Illustration by Rose Wong
Get the latest updates from
MIT Technology Review
Discover special offers, top stories, upcoming events, and more.