Neural Prostheses Go Wireless
An entirely implantable system being tested in monkeys transfers data through the skin via laser.
Scientists at Brown University have developed an entirely implantable version of a neural prosthesis used to translate neural signals from the brain. The ultimate goal is to use this kind of device to allow severely paralyzed people to control a computer or a robot limb with their thoughts. Results from preliminary tests in monkeys of the new version, in which data is transferred via laser through the skin, were presented Sunday at the Society for Neuroscience conference in Chicago.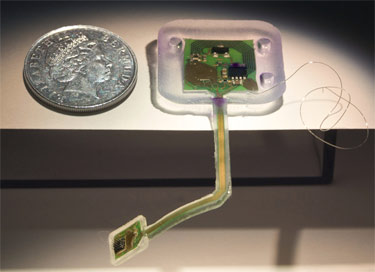 A similar device, called BrainGate, has already been tested in people who are paralyzed from spinal cord injury and stroke. In 2006, John Donoghue and collaborators at Brown and Massachusetts General Hospital in Boston published results of a clinical trial of two paralyzed patients who had an array of electrodes surgically implanted in the brain. The device recorded neural signals from the motor cortex, which were then translated into movement of a computer cursor using special algorithms–patients could move the cursor around a screen, make preliminary movements with a robotic arm, and even control a wheelchair. Scientists have since tested two additional patients, with one having the implant for almost four years.
But a major downside to the implant tested in humans is the bulky wiring that exits the skull, raising risk of infection and hampering patients' mobility. To create a wireless version, scientists turned to technology from the fiber optics industry, which has developed devices to send a large volumes of information very quickly at low power. The array of electrodes that is implanted on the cortex is connected via a single wire to a data transfer chip, which is implanted onto the skull. The chip has a tiny laser, the size of a grain of sand, that transmits rapid pulses of light across the skin to a photodiode receiver placed on the scalp. The receiver converts the light signals back to electrical ones, and sends the information to a computer.
The device uses radiofrequency technology for power, similar to the system used to power cochlear implants and other implanted medical technologies. Scientists implanted the device for the first time in a monkey two months ago. They are currently assessing how well the implant can send neural information but haven't yet tested the animal's ability to use it to control external devices, says David Borton, a graduate student at Brown who presented the research. Borton says it's difficult to predict how long it will take before the wireless chip can be tested in humans.
Meanwhile, Leigh Hochberg, a neurologist at Massachusetts General Hospital, in Boston, who oversees the clinical trials of the BrainGate device, says his team has received permission to implant the device in 15 additional patients with spinal cord injury, locked-in syndrome, a specific type of brainstem stroke that results in severe paralysis, muscular dystrophy and ALS. Hochberg expects to implant one to two patients per year.
Stay connected
Illustration by Rose Wong
Get the latest updates from
MIT Technology Review
Discover special offers, top stories, upcoming events, and more.