Algae move by "singing" propulsion
An entirely new form of acoustic propulsion may explain how certain blue-green algae navigate the seas
In 1985, in the middle of Atlantic Ocean, researchers discovered a type of blue green algae called Synechococcus capable of swimming at a rate of 25 diameters per second. That seemed strange because similar strains found in coastal waters are unable to move.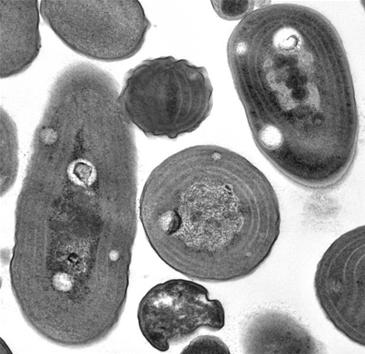 Stranger still is that these Synechococcus have no cilia to propel themselves along and neither do they move by changing shape as other single-celled organisms do. In fact, Synechococcus has no identifiable means of propulsion at all. How it moves is a mystery that has puzzled marine biologists ever since.
Now Kurt Ehlers from Truckee Meadows Community College in Reno and a buddie from Brazil think they've cracked the problem. They say that recent observations of Synechococcus using atomic force microscopy show these creatures having tiny spikes or spicules that extend from the cell's inner membrane, out through a crystalline outer shell and into the surrounding water.
Ehlers and co propose that these spicules can be made to vibrate by molecular motors within the cell and that this vibration causes nearby fluid to flow, generating movement (a phenomenon called acoustic streaming). In effect, the bacteria "sing" themselves along.
That may not be so far fetched. Yeast cells have spotted vibrating at frequencies of between 0.8 and 1.6kHz,so why not Synechococcus?
Ehlers says it should be straightforward to "hear" the noise that Synechococcus make when they move using nanosensors to pick up their vibration.
If he's right, this constitutes an entirely new form of "singing" propulsion for cyanobacteria (as blue-green algae are called).
And although engineers have used the same idea in silicon micropumps since the 1990s, nature beat us to it by a cool 4 billion years or so.
Ref: arxiv.org/abs/0903.3781: Synechococcus as a "Singing" Bacterium: Biology Inspired by Micro-Engineered Acoustic Streaming Devices
Stay connected
Illustration by Rose Wong
Get the latest updates from
MIT Technology Review
Discover special offers, top stories, upcoming events, and more.