New Material Breaks Surface-Area Record
One gram of a new hydrogen-storing nanomaterial has the surface area of a football field.
A new nanoporous material has a surface area higher than was thought to be physically possible. A few years ago researchers had calculated that 3,000 square meters per gram was the upper limit, but soon after, materials got up to about 4,000 square meters per gram. The record-breaking material, developed by materials scientists at the University of Michigan, has 5,200 square meters per gram. (A National Football League regulation field measures about 5,351 square meters.)
High-surface-area materials are important for catalysis, water filtration, fuel cleaning, and hydrogen storage. The new material is what's called a metal-organic framework. It consists of a network of zinc oxide groups held together by hydrocarbon struts. It's a higher surface-area version of previously developed material that's very good at storing hydrogen. But the boost to surface area didn't boost hydrogen storage, suggesting that other factors need to be investigated. This work, led by University of Michigan chemistry professor Adam Matzger, is described online in the Journal of the American Chemical Society.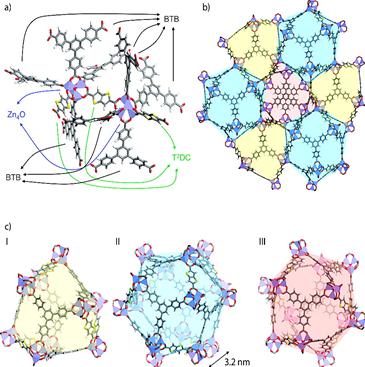 Stay connected
Illustration by Rose Wong
Get the latest updates from
MIT Technology Review
Discover special offers, top stories, upcoming events, and more.