Better than High-Def
Get ready for high-contrast displays.
Today's high-definition displays pack in the pixels to provide breathtaking color and detail. But another display technology, called high dynamic range (HDR), can produce far higher contrast, correctly and vividly displaying details of both the brightest and darkest areas within the same scene.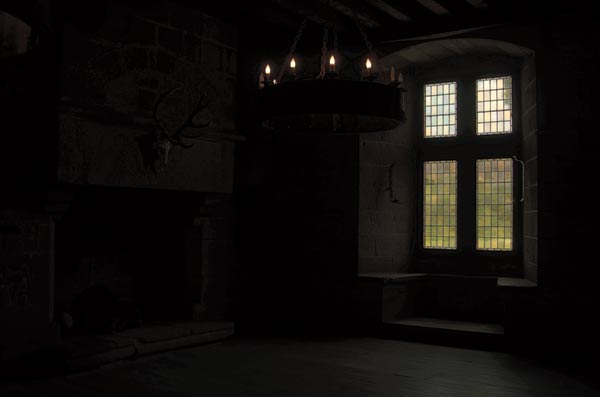 Study in contrast: A high-dynamic-range display renders bright and dark regions of the same image with great clarity. An image of a castle (bottom) simulates the improvement over what is possible with a conventional display (top).
Credit: Erik Reinhard
Multimedia
See examples of high-dynamic range images.
HDR products might be available soon; earlier this year, Dolby bought HDR-display maker BrightSide Technologies, of British Columbia. The company's liquid-­crystal-display prototypes are illuminated by arrays of tiny light-emitting diodes (LEDs); individual LEDs can be controlled, increasing the darkness or brightness of various parts of an image.
Just as high-def-­display makers initially faced sluggish sales because most TV content wasn't filmed in high definition, wasting their displays' extra capacity, HDR-display makers have to contend with TV content that doesn't capture high-­contrast information.
But Ahmet Oguz Akyüz, Roland ­Fleming, and colleagues at the Max Planck Institute for Biological Cybernetics in Tübingen, Germany, have good news. They conducted perceptual experiments to show that when ordinary images are displayed on an HDR screen, simply enhancing their contrast–increasing the intensity of the brights and diminishing the intensity of the darks–mimics the HDR effect and produces pleasing results.
So even if your favorite show isn't filmed to capture high contrast, you could soon be seeing it in a whole new light.

Stay connected
Illustration by Rose Wong
Get the latest updates from
MIT Technology Review
Discover special offers, top stories, upcoming events, and more.