Fully navigable online worlds are flourishing, and all that virtual real estate needs to be furnished. Fantasy worlds such as Linden Labs' Second Life and even reality-based environments such as Google Earth are built to accommodate user-generated houses and other objects, which anyone can design using in-game tools or Google's SketchUp 3-D modeling software. But if you want a modernist masterpiece on your plot of virtual land, you don't have to build it yourself. Several companies and hundreds of individuals have gone into business as virtual contractors, designing items and structures that they can sell for real-world cash.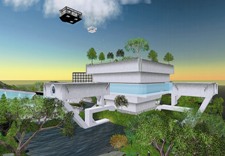 The group most fully integrated into Second Life is Electric Sheep of Washington, DC, whose 11 designers and developers can build anything from a stately pleasure dome to an entire interactive island. For the New Media Consortium, a not-for-profit group of more than 200 teaching organizations with a focus on new media technologies, the company designed and built such an island, where the consortium held virtual classes and events attended by the digital "avatars" of people around the world.
Electric Sheep declined to discuss the fees it charges for original designs. But the company also runs SLBoutique.com, where citizens of Second Life spend about $20,000 a month buying other members' digital creations, from skyscrapers to body parts, according to the company's CEO, T. Sibley Verbek.
The 3-D environment of Google Earth isn't shared or interactive like Second Life – but users can still customize their virtual experiences. Google's 3D Warehouse lists user-submitted models of real-world structures such as the Taj Mahal, which users can download into their copies of Google Earth. Enthusiasts can create new models using the free version of SketchUp or a $495 "pro" edition that offers animations and walkthroughs.
Though Google Earth models aren't bought and sold, Brad Schell, product director for SketchUp and the 3D Warehouse, suggests that corporations could one day create virtual versions of their stores – which could then be placed into Google Earth, perhaps allowing users to roam virtual aisles for products they could order online.
Stay connected
Illustration by Rose Wong
Get the latest updates from
MIT Technology Review
Discover special offers, top stories, upcoming events, and more.