Is Apple Losing Its Way?
Giving its users such a flawed navigation tool raises questions about the company's strategy.
The striking inaccuracy and incompleteness of the mapping app that Apple handed to users with its latest software for iPhones and iPads throws into question the company's philosophy of maintaining tight control over its technology, and suggests it has lost some of its vaunted discipline.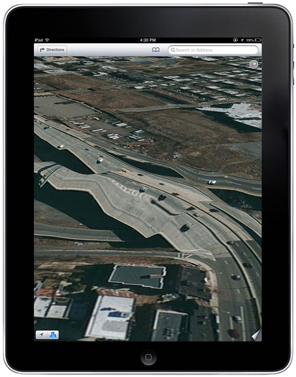 It's clear enough that Apple was in a hurry to end its products' reliance on Google Maps, which tended to feed the coffers of the archrival maker of the dominant Android smartphone operating system. The stakes are high: roughly a quarter of mobile ad revenue comes from ads associated with maps.
Apple's map software comes preinstalled on the iPhone 5, and also comes with the new iOS6 upgrades for other iPhones, iPod Touches, and iPads. With Apple trying to distance itself from Google products, Google Maps is not available as an iPhone app, but Google Maps can still be used on the Safari browser.
The gaffe may do little to temper demand for Apple's new iPhone 5—the early indications are that it will fly off the shelves. But to build its own mapping app, Apple used data—from a number of sources, including the company TomTom—that obviously lacks the detail it needed. It also rushed to market with an accuracy-be-damned attitude. Some of the more amusing examples highlighted by frustrated users include Dublin's airport stuck on a farm, nothing found in a search for "Canada," the Golden Gate Bridge misplaced, and countless others. This comes just a week after CEO Timothy Cook declared in interviews, referring to iPhone 5: "I feel the need to be the best."
The development is puzzling, to say the least, says Sunil Gupta, a professor at Harvard Business School. "I am surprised with their collaboration with TomTom that basic things like streets, and where Golden Gate Bridge is located, are misplaced. It's sort of shocking," he says.
He added: "The direction of Apple to go into maps is the right direction, but people will probably start questioning whether Apple products are as wonderful. It's been almost like a cult. We can always forgive people for one mistake, and for the post-Steve-Jobs era, this is the most significant. Another slip of this kind, people will start questioning Apple."
Maps are a crucial tool for users of mobile devices (see "Smartphone Makers Can't Afford to Mess Up Mapping"). Building an accurate mapping application with every street, building, and other landmark properly labeled takes years and regular daily updates. Many companies are working on next-generation mapping technologies (see "All Over the Maps"). 
In some sense, Apple's decision was not entirely inconsistent with its history of releasing imperfect beta products. "I don't think there is a problem with [the] approach; it has worked well," says Chetan Sharma, a wireless research analyst in Seattle. "Just like Siri, they released it before it was fully baked."
However, Sharma says, there is a difference between beta and unfinished. "It is perfectly fine to launch competing apps and services—but not at the expense of quality," he adds. "The maps app wasn't fully baked. It was rushed through."
Still, Apple has made mistakes before and recovered. Two years ago it tried to launch a cloud storage service called MobileMe that proved expensive and complicated, and didn't receive much uptake amid bad reviews. Last year it rebounded from that setback with the iCloud (see "Apple Puts the Cloud Into All Its Devices").
Fixing Apple Maps' address and directions problems will take a lot of painstaking work, says Marco Gruteser, a professor at Rutgers University and an expert in location and mapping technologies.
 "The egregious mistakes can be fixed quite rapidly, but getting all the details correct—this is a continual process, and over the coming months or perhaps a year, we will see a much better product," he says. "But that process cannot stop—roads are changing, new buildings are being erected, addresses are being changed—it is a continual enhancement process."
Apple said in a statement: "We launched this new map service knowing it is a major initiative and that we are just getting started with it. Maps is a cloud-based solution, and the more people use it, the better it will get. We appreciate all of the customer feedback and are working hard to make the customer experience even better."
Apple will likely learn from its mistakes in more ways than one. "It's plausible that they can monitor the interactions with the map applications itself; for example, if you pull up a route and it leads you to the wrong destination, then you press the cancel button instead of the navigation button—Apple may be able to use that," says Gruteser.
Stay connected
Illustration by Rose Wong
Get the latest updates from
MIT Technology Review
Discover special offers, top stories, upcoming events, and more.