In Race to Algae Fuel, Sapphire Scores Point for Open Ponds
Sapphire Energy starts farming algae at New Mexico demo plant using an open pond design, which it says is the only way to keep costs low enough for fuels market.
Sapphire Energy has started operation of its demonstration-scale algae farm, a project which perhaps brings more clarity to an industry debate over the best way to grow algae.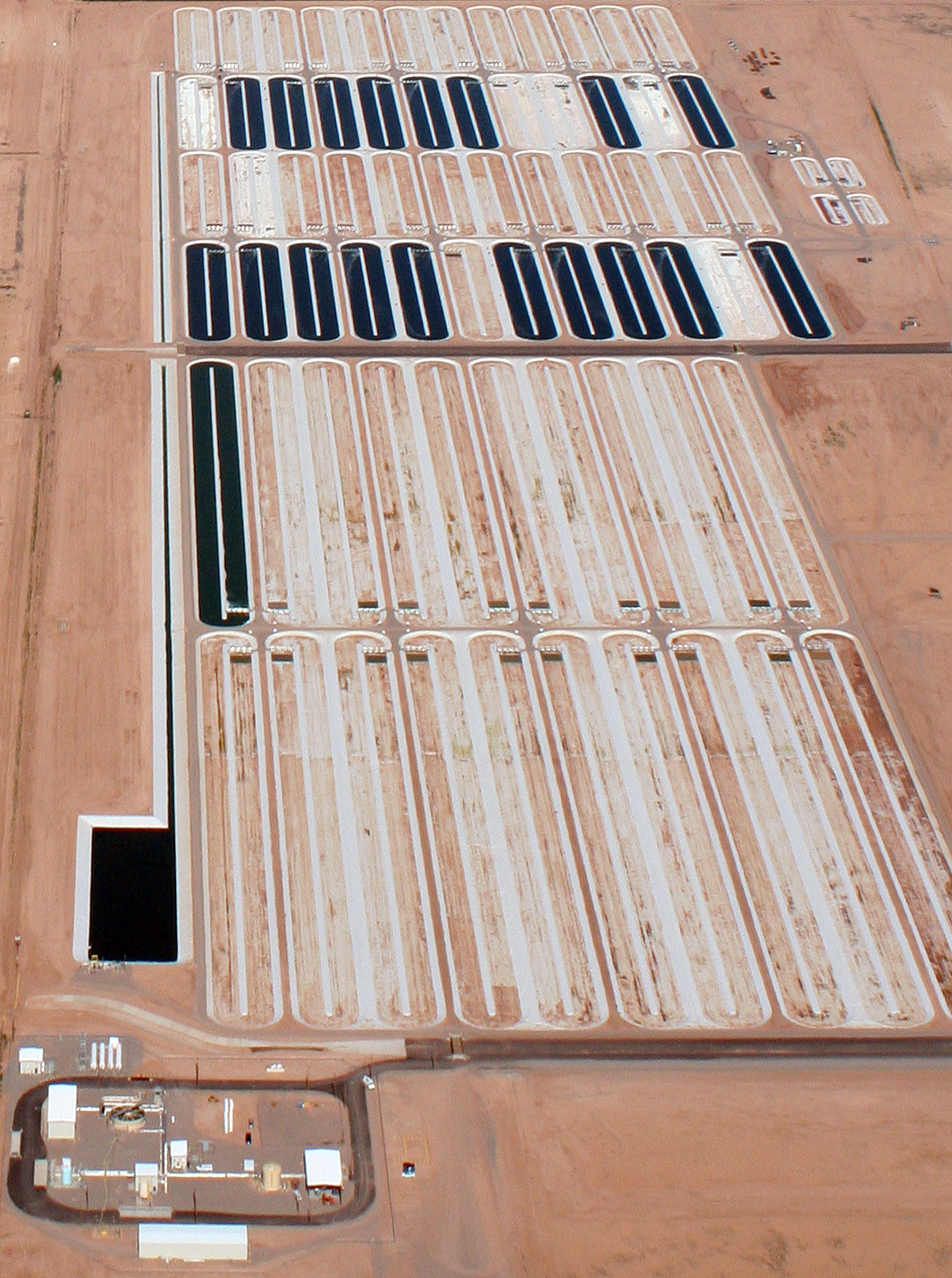 The San Diego-based company last week said that its Green Crude Farm in Columbus, New Mexico is producing algae at a higher rate of biomass yield than anticipated. The algae grow using sunlight, brackish water pumped from aquifers, and added nutrients.
The raceway ponds now cover 100 acres and Sapphire Energy's plan is to expand the operation to 300 acres and produce 100 barrels of oil a day by the end of 2014, says Tim Zenk, the company's vice president of corporate affairs. The plant was funded with $85 million from private investors, a $50 million Department of Energy grant, and a $54 million USDA loan guarantee. (See Sapphire Energy Raises $144 Million for Algae Farm.) 
Sapphire Energy contends its choice of an open pond design, rather than closed photobioreactors, should more or less settle the question over how to best cultivate algae for fuel production. In the low-margin fuel industry, cost is everything and the advantages of bioreactors don't justify their added expense, says Zenk.
"We can grow corn in a greenhouse faster, too, but we don't because it's too expensive to produce a commodity that way. Algae production needs to look like an agronomic system along the lines of rice," he says.
Photobioreactors, which could be glass or plastic tubes, are a closed environment so growers should have more control over light and environmental factors to increase yield and avoid another breed of algae from taking over. There's also less loss of water through evaporation. Open ponds, meanwhile, expose algae to diseases and predators which makes it harder to maintain growth.
Sapphire Energy is seeking to address environmental contamination issues by breeding strains of algae to withstand the elements, Zenk says. The algae growing in New Mexico, for example, grow in high pH levels where many predators can't survive and are bred to be resistant to funguses. As it moves to the winter, Sapphire will introduce a species of algae better fitted to grow in colder weather.
Certainly, a number of algae companies are sticking with bioreactors. Algenol, for example, grows ethanol-producing algae in large plastic tubes. Many algae companies are also producing oil for higher-margin chemicals such as health supplements, which could justify a higher production cost.
Using bioreactors in conjunction with open pond farms is a viable option, too, according to a 2010 study from the National Renewable Energy Laboratories. Hawaii-based Cellana, for example, cultivates new cultures in photobioreactors and then transfers the alge to marine open ponds.
Apart from producing algae biomass, there are significant challenges in harvesting the biomass and extracting oil and water. The cost of all these steps needs to be reduced in order to compete with the price of oil.
When oil prices were climbing near $140 a barrel four years ago, a number of algae startups and research efforts formed. But since then, some companies have gone out of business and it's still not clear that algae-based fuel can be cost competitive with petroleum. 
Sapphire Energy projects that once its open-pond process is done at larger plant and it implements other cost-saving techniques, it can match oil at $85 a barrel. As Sapphire and companies with alternative designs seek to scale up, we'll see whether algae can be made cheaper than oil. 
Stay connected
Illustration by Rose Wong
Get the latest updates from
MIT Technology Review
Discover special offers, top stories, upcoming events, and more.