Head of ARPA-E Sketches Course for Energy Research
Eric Toone, the principal deputy director of ARPA-E, discusses where the research agency is seeking technical breakthroughs in energy.
Eric Toone, who took the reins of the ARPA-E agency earlier this summer, has a few thoughts on where energy research should go.
ARPA-E is a Department of Energy research agency with a mission of funding risky technology ideas with the potential to improve energy security and reduce emissions from energy. Since it start three years ago, the research agency has generated a number of promising technologies in a range of areas, such as batteries, cost-effective biofuels, and more efficient buildings.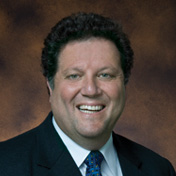 In an interview, Toone, who took over from ARPA-E's first director Arun Majumdar, says his main priority as principal deputy director is to bring in the top-notch research scientists ARPA-E has become known for. Those program directors oversee the progress of grant awardees, which could be businesses, universities, or national laboratories. ARPA-E projects are designed to bring a scientific advance closer to the marketplace by producing a first prototype or demonstration within a few years. Like the Department of Defense's DARPA agency, ARPA-E programs are stopped if the research team isn't meeting technical and commercial milestones.
In the months ahead, ARPA-E plans on forming research programs in areas where the private sector isn't already working and there's the potential for a big jump in performance, says Toone, who is also a professor of chemistry and biochemistry at Duke University. Program ideas now being discussed include:
Fast charging for electric vehicles. Battery technology is improving and high-voltage direct-current charging stations can get an electric car's batteries to about 50 percent charge in a half an hour. But technologies to make EV charging as fast as filling up with gasoline is "an area ripe for innovation," Toone says.
Smart and autonomous sensing. Utilities are already starting to use robotic devices, such as phasor measurement units, to monitor transmission lines and look for damage after storms. But Toone says there's a lot more potential in sensors and robotics to improve energy efficiency and reliability. "There's all sorts of clever concepts around smart dust or things that look like small insects that travel through buildings, inspect systems, and report information to optimize energy use," he says.
Better materials. Lightweight and strong materials can yield big improvements in vehicle efficiency, which makes work on better alloys important. ARPA-E already has a program to explore alternatives to rare earth magnets since nearly all rare earth elements are sourced from China. But Toole says there's still a need for better magnets that are very dense and low cost.
More dense biofuel crops. One of the big challenges to making fuel from non-food sources is the cost of transporting biomass. Toone, who heads up ARPA-E's Electrofuels program, proposes a way to "massively densify" crop residue, such as light and fluffy corn stover, when it's actually harvested to help lower the production costs of cellulosic biofuels. 
Ultra low-cost hydrogen. Hydrogen for fuel cells needs to be produced, either by splitting water or stripping hydrogen from another source. Dramatically lowering the cost of hydrogen to below one dollar per kilogram would address one of the persistent barriers to broader fuel cell use.
ARPA-E was created in 2007 and initially funded through the stimulus in 2009. Since then, it has funded about 200 projects with relatively small grants typically a few million dollars. (See, Can ARPA-E Solve Energy's Problems?) 
In general, the research agency has enjoyed the support of both Democrats and Republicans in Congress. Last year, for example, its budget was increased to $275 million after being reduced to $180 million in 2011. But its political support warrants close watching for people interested in energy innovation.
Energy and the role of government in energy is becoming a big topic in the presidential debate. The Obama administration and Energy Secretary Steven Chu are staunch supporters of ARPA-E; the administration requested to increase ARPA-E's 2013 budget to $350 million. Mitt Romney's energy position mentions ARPA-E as well, saying it should focus on basic research.
Toone can't predict which way ARPA-E's budget will go in the years ahead, but says ARPA-E would benefit from consistent funding. "It would not be helpful, for instance, if someone tripled our budget next year. What we need is steady, sustained growth that will let us continue to ramp up at a manageable pace."
Stay connected
Illustration by Rose Wong
Get the latest updates from
MIT Technology Review
Discover special offers, top stories, upcoming events, and more.