Google's New 'Account Activity' Is a Sham
When it comes to privacy, Google wants to be the good guy. Too bad that's not enough.
Update: Or not! According to lots of people, I got this completely wrong, since Google has a Dashboard that contains some of the information this piece asserts that Activity should contain, and I sincerely regret not including it in the original draft of this piece. At the end of this post, please find a full response from Google, or check out the comments to learn just how daft I am. (For yet a third perspective, here's Om Malik agreeing with the original thesis of this piece, even in light of the Dashboard.)
Google Account Activity is Google's fairly transparent attempt to differentiate itself from Facebook by being open about what it knows about you. But in their attempt to not overwhelm you with the truly scary amount of data they have compiled about you, they boiled it all down into a super accessible milquetoast of a dashboard that tells you absolutely nothing.
How do I know that Google Activity is a useless pile of overdone pabulum? Easy. I feel totally comfortable sharing my dashboard with you. Here it is.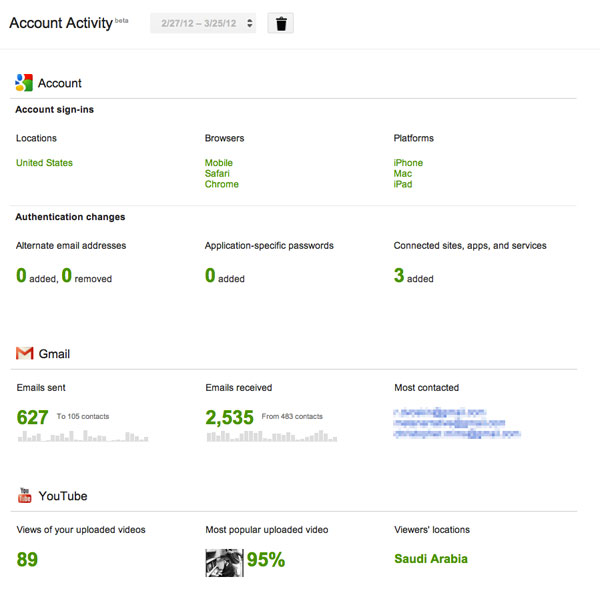 This would not be the case if Google were actually telling me what it knows about me.
First off, it's just sad that Google Plus does not even show up on this dashboard. Apparently even Google has given up on it. Moving right along, what profound insights did I gain from this dashboard? That my most e-mailed contacts are my wife, my editor and myself, in that order. Also, my most popular video uploaded to YouTube is the only one I've ever bothered to publicize. (It is about Steve Jobs, and you should watch it immediately.)
That's it. You know what Google isn't telling you?
Google knows every search query you've ever entered while logged in
Google has all kinds of demographic information about you
Google has probably derived, from the above data, everything from your sexual orientation to your hometown, though I can't prove it.
Google has a rough idea of your social graph, based on your gmail contacts and the frequency with which you email them.
Thousands and thousands of lines of other information about you.
I'm disappointed. I thought Google Account Activity was going to tell me exactly what Google knows about me. Sort of like that teen who sued Facebook to force the company to send him everything they had on him, and it ended up being more than a hundred megabytes' worth of material.
The truth is that unless you're vaguely creeped out by the results, Google is not telling you all that it knows about you. Google has every email I've ever written, every chat transcript, every search query back to the birth of the site (but anonymized after nine months).
On the one hand, I can understand why Google didn't provide all this information in a single dashboard. If anyone were to log in to my account, it would be a one-stop shop for a level of privacy violation the world has never seen. But on the other hand, isn't that precisely the point? This data exists. Google has it. I want to see it – and I want the option to delete it.
* * *
Chris Gaither of Google responds
Account Activity is a beta feature. If you sign up, we'll send you a monthly report with some insight into how you're using Google while signed in. We started with some commonly used services like Gmail, Search and YouTube, as well as security settings like application-specific passwords. You can access deeper controls by hovering over each section; for example, clicking on Web History Settings takes you to your signed-in search record where you can view, edit, delete and turn off your Web History if you'd like.  
The Google Dashboard, which we launched in 2009, helps answer the question, "What does Google know about me?" It shows you what information is stored in your Google Account and enables you to change your privacy settings from many products in one central location. Here's more information about it on our Good to Know site, including a video. And you can check it out at google.com/dashboard.
Stay connected
Illustration by Rose Wong
Get the latest updates from
MIT Technology Review
Discover special offers, top stories, upcoming events, and more.