Battle of the Electronic Wallets
Mobile-phone carriers are seeking a beachhead in phone-based payments. Only problem? Google got there first.
Dry cleaners, sandwich shops, and hardware stores in Salt Lake City and Austin, Texas, have been getting visits from salespeople working for a joint venture among three of the four leading U.S. mobile carriers: Verizon, AT&T, and T-Mobile.
But these pitchmen aren't selling wireless plans. Rather, they're hawking software that works on new point-of-sale terminals costing about $100 and allows payment from "mobile wallets"—smart phones loaded with special chips that can transmit credit-card information and receive store offers.
The salespeople are foot soldiers in a nascent but widening ground war. The three-carrier consortium, called Isis, is planning to launch a mobile payment service in those two cities this summer—one year after Google launched its own effort, called Google Wallet, allied with the fourth major carrier, Sprint Nextel.
Mobile phone plans are a big business—operators collected $170 billion in 2011—but revenue per user has started to flatline. Instead, consumers are spending more and more on games and apps that run on phones but aren't actually sold by carriers.
Isis, formed in November 2010, is the carriers' attempt to draw a line at payments. "This is a big opportunity for the mobile industry," says Jaymee Johnson, head of marketing for Isis, which employs several hundred people in New York, Dallas, and Seattle. "The payment industry is larger than the entire wireless industry."
Isis says its business model doesn't involve a direct cut of the credit-card fees charged to merchants. Rather, issuers are expected to pay to get their cards carried in the wallet, and merchants would pay to extend loyalty rewards and redeem special offers—replacing the little dongles that hang off your car keys.
"The carriers are facing the risk that Google is going to take over the lucrative slices of mobile business," says Gwenn Bézard, research director with the Aite Group, a Boston-based research firm. "With Isis, they are trying to create a platform where they will be able to compete—not just on payments, but on all the marketing that will be associated with them."
Both Isis and Google are using a technology known as near-field communication, or NFC, in which a special phone chip communicates through an inch or two of air with a payment terminal. Currently, only 25 of the top 100 U.S. retailers are set up to accept such "contactless payments"—including McDonalds, CVS, and Home Depot. Moreover, only 2 percent of smart phones in use have NFC chips, which means most people can't yet pay using a digital wallet.
But those figures are expected to change rapidly. By 2015, about half of the 863 million phone handsets sold yearly worldwide will contain the chips, according to Frost & Sullivan.  
Google stole an early march on the phone carriers when it launched its own mobile wallet last May. The search giant has lined up partners that include Sprint, major card companies, and even New Jersey Transit, which now allows commuters to tap to pay their fares. With its pending purchase of Motorola Mobility, Google is also expected to push the introduction of NFC chips in Motorola phones.
Google won't say how many transactions are actually being handled, only that it's accepted at "150,000 merchants." Gas station convenience stores and fast-food joints like Burger King have been among the first to sign on. To see the gradual march to implementation, you can plug in your zip code on the Google Wallet site to see local stores that accept the technology.
"This is probably similar to 1995 and 1996, the very early days of e-commerce," says Osama Bedier, Google's vice president of payments and Google Wallet, who until last summer led a similar effort at PayPal.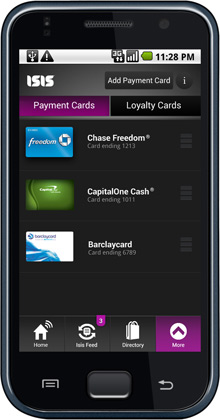 Over the past five years, people have become accustomed to buying apps, games, and songs on their phones. Even so, only about 7 percent of retail sales occur online, compared to $4 trillion that is still spent in person at stores. "We're going after the 93 percent," Bedier says.
The biggest prize may be the chance to reach consumers at the very instant they are deciding what to buy. Both Isis and Google plan on using their mobile wallets to offer promotions that, like Web advertisements, could be highly personalized. Retail advertising accounts for around $200 billion a year in spending—very little of which is yet channeled through mobile phones. 
The companies are now in a race to get merchants to install software into the new checkout terminals, so that their wallets are accepted and they can manage sending advertisements and loyalty points back to consumers. 
With dizzying profits at stake, tensions are on the rise. Late last year, Verizon—a member of Isis but also a big seller of Google's Galaxy Nexus phone—asked Google to disable the wallet app on phones sold at its stores. Google, which backed down, downplays the significance of the disagreement. "You've got to remember, this is very early days," says Bedier. "The whole space is going to explode. There will be a lot of room for Isis and Google."
Google has had missteps along the way, including security glitches (since patched) that could have allowed phone thieves to go on electronic spending sprees. Bedier says those real-world experiences have helped strengthen Google's wallet. "We've solved issues that were not caught when it was theoretical," says Bedier. "Now we've got a commercial, viable product that works in the wild." 
At Isis, Johnson predicts the carriers' wallet will hit the market with its technology, and business arrangements, already sorted out. When it launches, the carrier alliance will bring an armada of partners: all the major credit card brands, three banks with 100 million customers, and makers of merchant terminals and phone handsets (Apple is not among them).
"Isis is not solving a technology problem," says Johnson. "What's important is to make it work at scale. You need multiple parties to work together for this to be a good consumer experience. Scale is crucial to get mobile commerce off the ground."
Stay connected
Illustration by Rose Wong
Get the latest updates from
MIT Technology Review
Discover special offers, top stories, upcoming events, and more.