When a Jet Hits a Soap Film
A soap film can bend a jet of fluid, just like a lens. That opens up an entirely new way to control microjets, say physicists.
If you've ever played with soap bubbles, you'll have seen the complex flows that can occur on the liquid surfaces and the way that bubbles can deform, drip and even survive being punctured by small particles.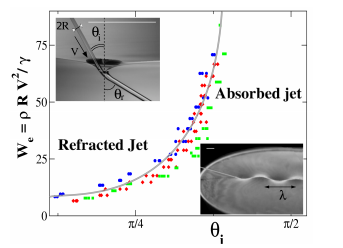 Today, Geoffroy Kirstetter and buddies at the Universite de Nice Sophia-Antipolis in France ask what happens when a jet of liquid hits a soapy film.
These guys used a bowl of washing up liquid to generate a soap film some 10cm across in a wire frame. They then pumped a stream of soapy water through a sub-millimetre nozzle to create a jet with a size and velocity they could vary.  Finally, they fired the jet at the film at various different angles to see what happens.
It turns out that the film is surprisingly robust. "Regardless of its velocity, radius and incident angle, the jet never breaks the soap film," say Kirstetter and co.
But something else happens instead: the film bends the jet by an amount that depends on its angle of incidence. In effect, the film acts like a lens, and Kirstetter and co are able to derive a kind of Snell-like law to describe this kind of refraction.
They also observe two other phenomena. Beyond a certain angle the jet becomes trapped on the surface of the film and at the most extreme angles, it can bounce across the surface.
That may sound like little more than good fun, but it has an important potential application. A growing number of technologies depend on inkjet printing, things like publishing, 3D printing, and the manufacture of plastic electronics. 
Until now, physicists have had very little control over the direction of a jet of fluid after it has been fired. "No reliable technique is available to guide a micro-jet inside a medium as simple as air," say Kirstetter and co. 
The new work could change that. It opens up an entirely new way to control the direction of microjets using soap films acting like liquid lenses.
Just how that might be applied is, of course, a question for the engineers, who will focus on the practicalities of the idea. A soap film in your printer? Stranger things have happened.
Ref: arxiv.org/abs/1203.0842: Jet impact on a soap film
Stay connected
Illustration by Rose Wong
Get the latest updates from
MIT Technology Review
Discover special offers, top stories, upcoming events, and more.