Researchers Release Genetically Engineered Mosquitoes
The insects were created with the aim of controlling dengue fever, but opponents worry that not enough testing has been done to warrant release into the wild.
The first open field tests of genetically engineered mosquitoes, carried out in the Cayman Islands, show that the insects can successfully compete with their wild counterparts for mates. The mosquitoes are designed to help combat dengue fever, a potentially fatal infection that afflicts 50 to 100 million people per year, mostly in tropical countries. No drugs or vaccines exist to treat or prevent the disease, so prevention efforts are focused on eradicating the carriers, a single species of mosquito.
The mosquitoes, created by a U.K. based start-up called Oxitec, are engineered to carry a mutation that makes them die if not fed a specific chemical. Larval insects can survive in the lab with special food; but once the males are released in the wild and mate, subsequent generations die, reducing the population as a whole.
According to unpublished research from Oxitec, releasing 3.3 million engineered mosquitoes in Grand Cayman Island reduced population by 80 percent. The findings follow a smaller study carried out in 2009, whose results were published Sunday in the journal Nature Biotechnology.
Previous insect control efforts have included sterilizing male animals and releasing them to the wild, where they mate but produce no offspring. Sterile male Mediterranean fruit flies, for example, are used world­wide to protect fruit and vegetable crops. But this does not work for mosquitoes, because the technique used to sterilize the insects also weakens them, meaning they cannot compete for mates.
The lethal gene strategy, which theoretically stops genetically engineered organisms from spreading, is somewhat similar to that used in the fictional Jurassic Park; like the dinosaurs in the movie, the mosquitoes are engineered to require a certain substance to survive. But just as in Jurassic Park, experts say it isn't foolproof.
"The progeny of crosses between [genetically engineered] males and wild females in the laboratory survived at the disturbingly high rate of 3.5%," writes Todd Shelly, a researcher at the US Department of Agriculture-Animal and Plant Health Inspection, Waimanalo, Hawaii, in a commentary accompanying the publication in Nature Biotech.
A second concern is that the engineered lethality gene could somehow be transferred to other environmentally-important insects, such as those vital for pollination.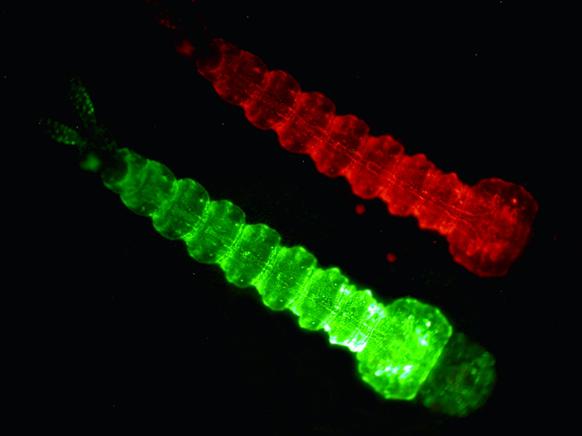 Florida is already considering trying the new mosquitoes. According to an article in the New York Times,
Authorities in the Florida Keys, which in 2009 experienced its first cases of dengue fever in decades, hope to conduct an open-air test of the modified mosquitoes as early as December, pending approval from the Agriculture Department.
…The Agriculture Department, meanwhile, is looking at using genetic engineering to help control farm pests like the Mediterranean fruit fly, or medfly, and the cotton-munching pink bollworm, according to an environmental impact statement it published in 2008. Millions of genetically engineered bollworms have been released over cotton fields in Yuma County, Ariz.
Stay connected
Illustration by Rose Wong
Get the latest updates from
MIT Technology Review
Discover special offers, top stories, upcoming events, and more.