Maker Faire 2011
A walk through the 2nd Annual World Maker Faire at the New York Hall of Science.
A walk through the 2nd Annual World Maker Faire at the New York Hall of Science is like a walk through a collective brain belonging to visionary, techy, and (mostly) benevolent inventors. "Collective" because much of the work on display at the annual DIY exhibit relies on shared hardware, shared software, or interdisciplinary collaboration.
Take, for example, the newly launched Bare Paint, developed by UK-based company Bare Conductive. The non-toxic electrically conductive paint was developed by a team of designers and engineers from the Royal College of Art who turned their Master's project into a global business.
At the Faire, held on Sept 17 and, Bare Conductive displayed several simple paintings, each of which activated a device when skin met paint. Touching a picture of a light bulb lit up an actual bulb. A sketched trumpet tooted musical tones when tapped. According to co-founder Matt Johnson, in order to turn on the lights in the organization's London studio, all they have to do is touch the walls.
Environmental outreach and renewable energy were prominent themes at the Faire.
Protei's Open Source Sailing Drone is a prototype of a remote-controlled sail boat designed to help clean up oil spills without exposing people to harmful substances. The company uses Open Hardware licensing, which means the design can be viewed and modified by anyone around the world.
KeegoTech displayed MudWatt, an educational microbial fuel cell kit that uses the metabolic properties of the microbes Shewanella and Geobacter to generate energy. Grab some dirt from your backyard, throw in some leftovers from last night's dinner and in a few days the LED light affixed to the kit will blink.
The outreach group Ioby displayed "seed bombs": clay-compost-seed balls that look dangerously like truffles. They're actually meant to be tossed into vacant patches of land to prompt vegetative growth where there isn't any.
And industrial designer Karen MacKay showed how even inside a tiny New York apartment you can grow your own grub. She uses a hydroponic system (water, no dirt) and hangs the plants vertically in felt strips.
The Faire also had a healthy dose of whimsy. The Sashimi Tabernacle Choir provided some musical accompaniment. (There's no good way to explain a lobster conducting a choir of fish so I'll let the images speak for themselves).
Dash 7 built a towering swing set that drizzles water from the top beam. But, as swingers pass through, the water stops for a few moments, letting them pass. The time lapse adjusts to each individual. After a few swings the model predicts when someone will pass through again and adjusts the water flow so that everyone stays dry…at least in theory.
My "Most Obnoxious Design" award goes to DachisGroup for Social Shocker, an interactive game in which two people each rest a hand on a platform and guess which of two items produce the most Google hits (Guinness or Bud Light, Chocolate or Rocky Road, etc.). The loser gets a 3 millisecond shock along with a pic taken by an iPad timed to capture the exact moment of recoil. For added fun, all pics are publicly posted here.
And my "Blew Me Away, Please Give This Woman Some Funding Award" goes to Veronika Scott for The Empowerment Plan. For her class project (with some outside help from such heavy-hitters as Dupont), the Detroit undergrad hired and taught homeless women to sew Tyvek coats that double as sleeping bags for the homeless. Creating jobs, teaching usable skills, and providing much-needed warmth for a population who needs all of the above—that's technology with purpose.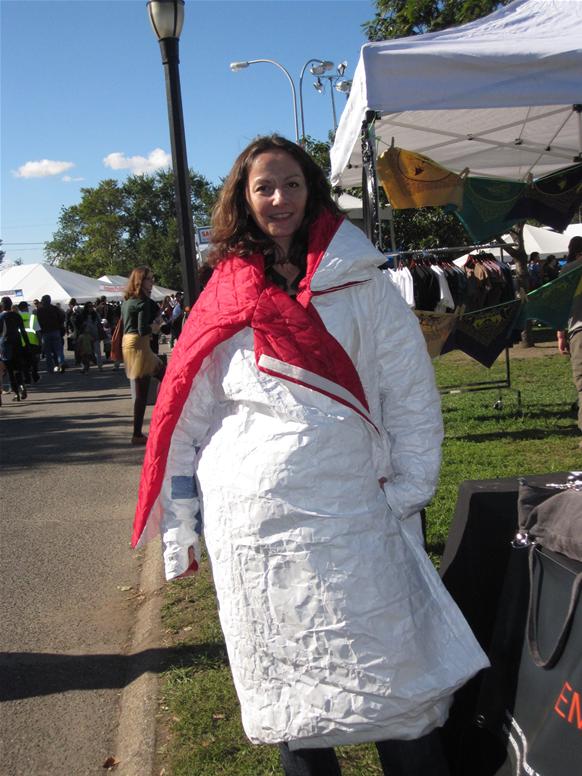 Stay connected
Illustration by Rose Wong
Get the latest updates from
MIT Technology Review
Discover special offers, top stories, upcoming events, and more.