A Gallery of Computers as Furniture
Who says our personal IT infrastructure should become invisible?
As our devices shrink, closing in on ubiquity and invisibility, it's easy to forget that there has long been a counter-trend, one that seeks to make the physicality of computers beautiful or even useful. Perhaps the two will collide – and future smartphone makers will advertise the utility of their devices as coasters.
In the meantime, here's a quick history of the phenomenon.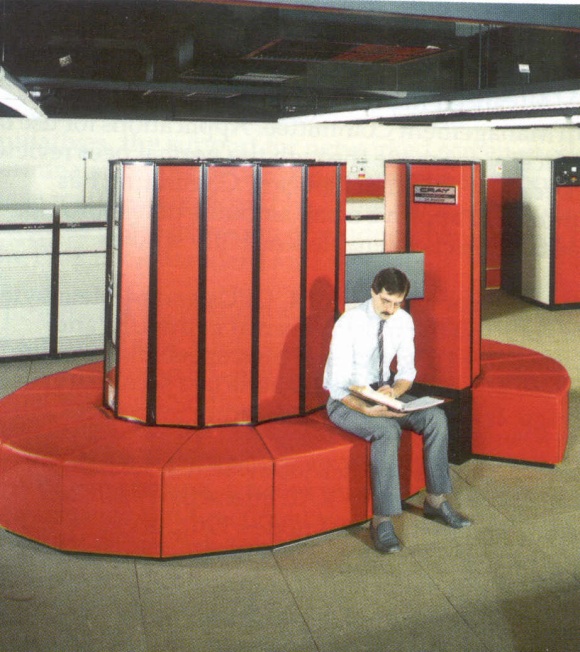 Who could forget the ultimate computer-as-furniture, the original Cray-1? The granddaddy of supercomputers weighed 5.5 tons and was immovable, so why not use it as a couch?
But the Cray was far from the first computer to double as a place to relax and smoke 'em if you got 'em. This is the Weapons Director Console, by IBM. It included a radar screen, a light pen…
…and a lighter and ashtray. Perhaps because, as one commenter put it, "staring at Russian bombers must have been really boring." Apparently this computer was out of date as soon as it was released, because the USSR switched to ICBMs.
Here's where it gets interesting: as computers become commodities, their design has the opportunity to transcend function. Apple already does this – the impractical slipperiness of their mobile devices more or less demands that they be paired with a case. Datamancer specializes in modern-day steampunk-style mods of existing systems.
After all, if computers are as ubiquitous as end tables, why shouldn't they borrow design cues from them?
Maybe Edwardian isn't your favorite kind of furniture. If you're in search of something more modern, there's always the Enlighten line of custom computers. Perhaps the logic is, if you're a titan of finance with a corner office, why sully your poured-titanium slab of a desk with a gray box that says "Dell"?
I'm not claiming this is a larger trend – if anything, computers seem to be more appliance-like every day. But because computers, unlike microwave ovens, tend to be something we invest ourselves in emotionally, it raises the question of whether or not they will replace the automobile as the principle vehicle of self-expression and status-seeking.
Stay connected
Illustration by Rose Wong
Get the latest updates from
MIT Technology Review
Discover special offers, top stories, upcoming events, and more.