Pixel Trickery Helps Create a Brighter Screen
Tablets could be lighter and last longer thanks to a new screen technology.
The iPad's bright and beautiful screen comes with a cost: a battery that makes up most of the tablet's weight. A new display technology designed for tablets uses a quarter of the power consumed by most screens while improving the range of colors and the resolution.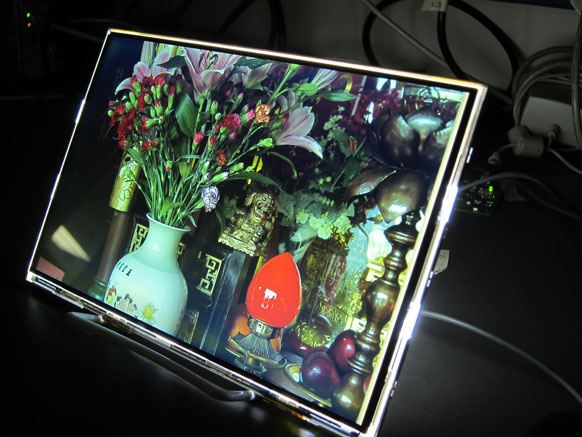 The technology, developed by Samsung and its affiliate, Nouvoyance, uses a novel pixel design that lets more of the backlight shine through. It combines this with algorithmic tricks that dynamically dim the backlight based on the image on the screen.
"People want at least 10 hours of battery life on their tablet," as well as screens that have more color and higher resolution, says Joel Pollack, executive vice president of Nouvoyance.
A standard LCD display uses a pixel architecture called RBG stripe, in which each pixel is made of red, blue, and green subpixels that filter color from a white backlight. The process is extremely inefficient—more than 90 percent of the backlight luminescence is wasted.
Normally, to increase the resolution, the number of pixels needs to increase, as does the number of transistors used to control those pixels. The problem is that the transistors block part of the pixel. Some smaller displays are built with a new process that lets transistors shrink and still supply the amount of current needed to drive a display, but it's difficult to scale this up to larger displays like those in tablets and TVs. Normally, as the resolution goes up, says Pollack, "the amount of area that light comes through shrinks."
Nouvoyance's pixel design, called PenTile, lets more light through in a couple of ways. First, the red, blue, and green subpixels are larger than those in traditional displays. Second, one out of every four subpixels is clear. This means the backlight can use less power and shine brighter.
"Almost no light is absorbed [by the clear pixels], which gives you tremendous advantages for any content that has some component of white," says Pollack. "And if you start looking at things, almost everything has white to it." 
Fewer subpixels would usually mean a lower resolution. But the PenTile display uses individual sub-pixels to trick the eye into perceiving the same resolution while using about one-third as many subpixels as an RGB stripe panel.
There are already 75 different products on the market using PenTile displays, mostly active-maxtrix organic light-emitting diode (Amoled) displays for phones and cameras. "Current manufacturing technology for depositing the organic materials limits the actual pixel density," explains Paul Semenza, senior analyst at research firm Display Search. "So by using PenTile, some of the Amoled displays for smart phones have been able to achieve a higher 'effective' resolution."
The PenTile display also uses image processing algorithms to determine the brightness of a scene, automatically dimming the backlight for darker images. A prototype was shown off at the Society for Information Display conference last month in Los Angeles.
"The combination of lower power/higher resolution could be important for tablets," says Semenza, "given the fact that they are battery powered with large displays, and given the expected shift to higher resolutions."
But he says manufacturers may yet find ways to use high-resolution transistor arrays, such as those found in smaller screens like the iPhone 4's Retina display, which "has set a high bar for performance on mobile devices," Semenza says.
Stay connected
Illustration by Rose Wong
Get the latest updates from
MIT Technology Review
Discover special offers, top stories, upcoming events, and more.