Are 'enhanced' e-books the future of books, or mere footnotes?
Publishers seem ready to write off combinations of books and multimedia, but maybe the problem is simply that so far, no one has done it right
Ecologist Tim Flannery's new book Here on Earth is available as a hardback, a paperback, a kindle ebook, and, somewhat unusually, an app. The app version of the book, produced for Atlantic Monthly press by a collaboration between writer/producers Arcade Sunshine and development studio Element 84, just went on sale in the iTunes App store. Here's a video short, one of many that appear in the book: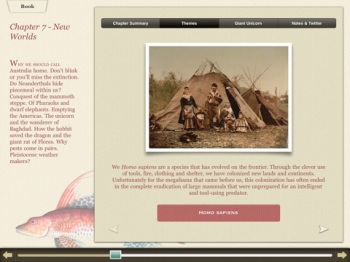 (Full disclosure: I may be skeptical of enhanced ebooks, but that hasn't stopped me from talking to Arcade Sunshine founder Aziz Isham about collaborating on one anyway.)
The iOS platform for Here on Earth is in some respects better than similar ones used by other enhanced ebook vendors like Vook. It has a level of functionality on par with The Atavist, an outlet for long form journalism on the iPad that prides itself on the fit and finish of its product. It includes features not seen elsewhere, like a Twitter hashtag-enabled "reading group" within the app itself, so you can share your thoughts with other passionate readers of the book.
The question that only time can answer is whether or not the production lavished on the app version of Here on Earth, or on any app-ified book, for that matter, will propel its sales. (Here on Earth includes over an hour of original video.)
On the one hand, enhancements to things like textbooks have obvious utility. That's the entire premise of the gigantic but short-lived Kno tablet, whose inventors have a vision compelling enough to warrant a $20 million investment from Intel aimed at realizing their dreams in a software-only form.
And then there is the endless parade of analogs of DVD extras that we've become accustomed to, whether they're packaged with the media we buy or appear only on the web. The things we consume today are as much metadata as they are data: interviews with authors, blogs by authors, television shows spun off from the books we love, etc.
On the other hand, there is something about enhanced e-books that is eerily reminiscent of the CD-ROM era and, for example, the animation-rich but ultimately doomed encyclopedia from Microsoft, Encarta.
When I challenged Isham on this point, he countered that the iPad and other tablets represent an entirely new delivery mode for this kind of content – arguably, the perfect one. "We don't read off our TVs," he notes. Nor do we browse the web on them, even though it seemed like sort of a good idea at the time.
Predicting the trajectory of a technology is a fool's errand – who would have imagined, at the dawn of Friendster, that social media would some day play a role in organizing government-toppling protests – so I won't bother. Isham is of the same mind: clearly, he recognizes this is an experiment.
"The real reason I'm doing this is that some day I wanted to own a book store in Maine. Now I know that won't happen," he says. Perhaps owning an e-bookstore is the next best thing.
Stay connected
Illustration by Rose Wong
Get the latest updates from
MIT Technology Review
Discover special offers, top stories, upcoming events, and more.