The Worst Mistakes at This Year's Consumer Electronics Show
Five devices, services and trends unveiled at this year's CES that seem doomed from the start.
The 2011 Consumer Electronics Show in Las Vegas wrapped last week, and it was a doozy - unbelievably powerful new smartphones, a raft of tablets, TVs that do everything short of toweling off afterward, etc.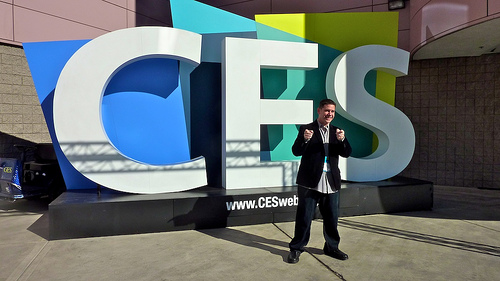 Inevitably, though, there were some missteps. Companies large and small are pouring millions of dollars into projects that seem in serious danger of being derailed by simple mistakes – ones that seem obvious to everyone but the people rolling them out, apparently.
Here's a list of this year's foolhardiest efforts to turn a buck:
1. Notion Ink Adam tablet launches with a totally custom app store – that may never be populated.
The highly anticipated Adam tablet by Notion Ink arrived at CES in all its glory – an incredible form factor, an innovative transflective display as viewable in sunlight as in a darkened room, and a thoughtful tablet interface designed to give Apple a run for its money in terms of defining user interactions for years to come.
But the tablet also has one glaring flaw: a custom app store, called Genesis, that is incompatible with the existing Android market. This means any outside developers wanting to build for the Notion Ink have to commit to re-coding their app specifically for a tablet that has to compete against countless other Android-based devices. It's a classic chicken and egg problem: Notion Ink needs apps to make their tablet usable and popular, but without it being usable and popular, not enough people will buy it to make developing for it worthwhile.
Apple solved this problem by being first and through its long history of iOS development on the iPhone; other Android-based tablets are at least compatible with the Android market. (The Adam is too, but only to a limited extent.) Like some lone madman wandering in the desert, Notion Ink has declared that developers can either adhere to the ideological purity of their custom interface or take a hike… I wonder which one they'll do?
2. Apple thinks it can still keep secrets when launching a product produced by Chinese suppliers.
Apple used to be able to keep things under wraps – these days, that seems more or less impossible. One very good reason is that it's using manufacturers and suppliers in China, where no one seems to be able to keep anything secret, especially not the form factor and additional cameras of the forthcoming iPad 2.
3. Making phones bigger, and bigger, and bigger, until they attain the dimensions of a cheese board and threaten to take over your pants.
Meet the new Samsung Infuse 4G. Look at the size of it. Seriously: It's as big as this guy's head. If you have small hands, you will have trouble even wrapping your fingers around it. You might need to have a tailor enlarge your pockets if you're planning on putting it somewhere other than your messenger bag.
At some point, device makers need to decide whether they're making phones or little tablets. I suppose the market will decide whether or not people want to be talking into devices the size of old-school Sony Walkmans.
4. Cisco's new smart TV play requires absolutely everyone to start building to a totally new standard.
Sure, you could stream your smart television apps and shows through something widely available, like the usual internet protocols, or you could boldly embrace the future and hop onto a totally new end to end standard promoted by Cisco. So far the only partner in this endeavor is Australian provider Telstra, so, good luck with that.
5. Microsoft is moving Windows to ARM – where its vast ecosystem of software is non-existent.
Wintel is dead - long live Wintel! The co-founder of ARM says that Intel is about to be "obliterated" as computing moves to his competing platform. So much for the hegemony of America's greatest hardware company, but there's a second casualty in the works as Microsoft sees the writing on the wall and rolls out a version of Windows that will run on the increasingly ubiquitous ARM platform – Windows itself.
As one commenter at Engadget put it:
Here are the top two reasons to use Windows:
1. A Windows computer is generally much cheaper than a Mac
2. There is a rich library of programs (and games!) that are only available for Windows.
Switching architectures means losing one of those two reasons. If the plan is to make something NT-based on other form factors (a tablet specific OS, or the next WinPhone), that's fine, but imagine buying an ARM Windows 7 laptop and then finding out you can't run crap unless all your favorite devs go an re-compile.
6. Bonus entry: Lazy filmmaking
Sorry, this is totally unrelated to CES, but it is an amateur mistake: filmmakers need to stop making movies from graphic novels. Yes, they're both visual media – it's as if some nerd already storyboarded the entire film for you! – but that's where the similarities end. Just watch this trailer for the forthcoming Priest, based on the graphic novel. Seriously guys, this has got to stop.
Follow Mims on Twitter or contact him via email.
Stay connected
Illustration by Rose Wong
Get the latest updates from
MIT Technology Review
Discover special offers, top stories, upcoming events, and more.