Introduction: How Mobile Is Your Enterprise?
All this month, we'll explore questions about how mobile computing will transform what companies do and how they do it.
The center of gravity in information technology has shifted away from the desktop and laptop computer and into the palm of your hands. Mobile computing has been swelling in importance for years, of course, but the sudden pervasiveness of the tablet computer and the smart phone (broadly defined as one with Web access) has ramifications for business that are crucial and not yet fully understood.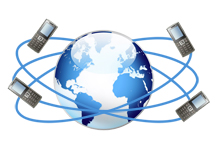 This month in Business Impact, we'll answer some of the questions that business leaders are asking about mobile computing. They know it will change the way their companies interact with their customers, with their employees, and with other companies, but they don't know how. Mostly, we'll consider the question "How mobile is your business?"
A decade ago, every business scrambled to create a presence on the Web. Now, the race is on to make it possible for customers and business partners to access your products and services through mobile apps. Equally important is ensuring that everything executives and employees do inside a company is at least mirrored on mobile platforms. But mobile computing will also enable businesses to do things that have never been done before.
The mobile phone has been adopted by more people more quickly than any other technology in history, changing lives in the developed, developing and poor regions of the globe. What happens when the next billion users have their own mobile handsets? Mobile technology is itself experiencing wrenching changes. Will wireless networks ever become as fast as wired ones? Or will the explosion of mobile video overwhelm the existing infrastructure and choke the networks, forcing carriers to increase access charges or limit access? What will the next generation of devices look like—or will they become, essentially, invisible?
Each industry will face its own challenges in this new environment. E-book readers threaten to overturn the publishing establishment. Mobile software startups are already displacing the large software companies. Wireless devices have the potential to change the way doctors and hospitals deliver preventive services and care. New applications such as location-based tracking and augmented reality may transform travel and retail. But will these new services live up to the hype? Mobile advertising now looks like the next multibillion-dollar industry. But how effective is it?
Like our report on digital marketing last month, this new report on the mobile enterprise will be delivered over the course of the month, in the form of daily features, interviews, analysis, and charts and data. At the end of the month, all those articles will become a complete special report that you can buy, print if you prefer, and read at your leisure. Comments from readers are central to our conception of Business Impact, and we look forward to your insights. We hope to publish any particularly rich and interesting debate, so we encourage you to contribute.
Stay connected
Illustration by Rose Wong
Get the latest updates from
MIT Technology Review
Discover special offers, top stories, upcoming events, and more.