World's First Robot Census
When a Carnegie Mellon student decided to count all the robots on campus, she had no idea it was the spark that would start a conflagration.
According to the best estimate of Heather "Marilyn Monrobot" Knight, a graduate student at Carnegie Mellon University, there are almost certainly more robots associated with CMU than there are people working in the university's robotics program. (One of them, Keepon, is pictured at left.)
"Which is insanity," says Knight, referring not to the number of robots–CMU is one of the few universities in the U.S. to offer a degree in robotics–but to the number of people on campus whose entire working existence is devoted to creating them. "There are 599 people [in the robotics program], including 100 or 120 people working in a government lab that's off campus," she adds. "I'm not sure if they're allowed to tell me about their robots–the estimate I've heard is between 100 and 300." (The lab in question does not do classified work, so it's likely to be included in future editions of the census.)
In total, Knight can officially confirm the existence of 547 robots on campus (that number doesn't include the population in the secret government lab) and that's just the beginning: as word spreads through the Maker community and the effort's Twitter feed, she plans to take the world's first robot census as far as it will go, eventually canvassing as wide a swath of the home-brew and university robotics efforts as possible.
Just by asking the keepers of the world's automatons to submit their research subjects, Knight is posing a challenging question: What is a robot?
"Everyone agrees there are 3 minimum requirements." says Knight. "These are the minimum, but not sufficient requirements: They must act in the world, sense the world, and they need to have computation."
The problem with this traditional definition of a robot is that it encompasses almost all forms of automation, including thermostats and washing machines. This has led some thinkers to add to the list of characteristics things like agency, autonomy and embodiment.
The robot census doesn't answer these questions, but it does force its participants to engage with them.
"It's kind of like, [what constitutes a robot] is not really an argument that's worth having–but it is a discussion that's worth having," says Knight.
Knight's inspiration for initiating the census is her own work in integrating robots into people's everyday lives. Westerners, especially, tend to harbor negative associations with robots. "It's hard to compete with the Terminator movie," says Knight.
By showcasing the incredible variety and utility of the robots at Carnegie Mellon and elsewhere, Knight thinks she might be able to punch through people's preconceived notions (and pave the way to getting robots into the home, where they can do the most damage once they're activated by SkyNet's central hive mind).
"Every time I give a talk I have people from age 8 to 50 that say they or their child wants to know how to get into robotics," says Knight. "There's so much interest and it's about figuring out where those applications are, not just in theory but in real life."
Here's a selection of the robots indexed in the Robot Census:
Ballbot
Boss, the robotic car
GigaPan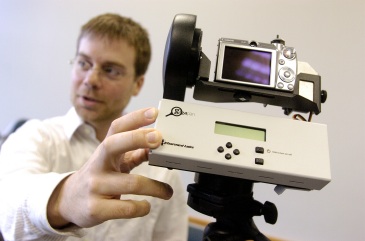 Nao Robots at the Robot World Cup
Scarab
SnackBot
Tractor with perception pod
Follow Mims on Twitter or contact him via email.
Stay connected
Illustration by Rose Wong
Get the latest updates from
MIT Technology Review
Discover special offers, top stories, upcoming events, and more.