In 2007, Nada Hashmi noticed a new sign near her thesis advisor's office: "Legatum Center for Development and Entrepreneurship." "I have to get to know these people," she thought. She did, and a year later, after earning a master's degree from the Sloan School in system design management, she entered a PhD program, also at Sloan, and became a Legatum fellow.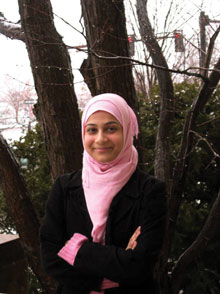 Hashmi's arrival at the newly opened Legatum Center, which offers fellowships for MIT grad students who intend to launch enterprises in low-income countries, coincided with her rising interest in mobile health clinics. Having grown up in Saudi Arabia, she knew that the country had a burgeoning immigrant population composed mainly of laborers, many of whom lived outside major cities.
"These guys needed better access to health care," says Hashmi. "They weren't going into the city to get it, and the doctors weren't coming to them."
To meet that need, Hashmi has devised a system of clinics housed in professional medical vans. They provide primary care, patient tracking, and follow-up services to immigrants and Saudi natives who live in remote areas, and Hashmi hopes they will help reduce Saudi Arabia's TB rate, which is among the highest in the world.
"If everything goes well, the big plan is to take the model we create in Saudi Arabia and implement it in other places," she says. "We want to help Asian countries, like India and Pakistan. That's the dream."
One of the most important things she's learned as a Legatum fellow, Hashmi says, is that "projects like this don't need to be not-for-profit." One aspect of her financing model, for example, involves using the van exteriors for rentable advertising space.
Balancing her fellowship, her personal life, and her Sloan studies in technology, innovation, entrepreneurship, and organization is crucial to her success, Hashmi believes.
"I spend a lot of time with my friends as well as taking time for community activities," she says. She also loves cooking and travel, and she recently became more serious about horseback riding.
To budding social entrepreneurs, Hashmi says, "Keep a balanced life, but go for it. There will be lots of times when people will tell you no, it's not going to work. But if you're committed, you'll find resources–especially at MIT."
Stay connected
Illustration by Rose Wong
Get the latest updates from
MIT Technology Review
Discover special offers, top stories, upcoming events, and more.