Why Instapaper Will Never Be Booted From the iTunes App Store
Creator of the popular reading app Marco Arment on how he's managed to avoid angering the New York Times - so far.
Publicity-wise, nothing could have been better for bestselling iPad newsreader Pulse than being featured in the Steve Jobs WWDC keynote speech in which he revealed the new iPhone 4 on Monday - and then almost immediately being pulled from the iTunes App store because of an angry letter from the lawyers of The New York Times.
It seems the Times' sharp-eyed legal eagles believe that Pulse violates the Terms of Service for the use of the Times' RSS feed by being a for-profit enterprise ($4 in the app store) that displays Times content sans Times advertisements. The fact that all RSS readers do this - and that many of them also charge for the privilege or, like Google's Reader, make money off of RSS feeds by pairing them with their own advertisements - seems to have been lost on the Times' lawyers.
The event left some observers - notably Jason Kottke - wondering if a similar fate could befall the beloved-by-geeks-everywhere app Instapaper, which does the same thing as Pulse but worse: whereas Pulse merely reproduces existing RSS feeds, Instapaper actually scrapes sites' pages and drops them onto user's devices for offline viewing, sans flash advertisements.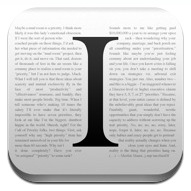 People who rely on Instapaper to manage their web reading experience across the desktop, iPhone, iPad and Kindle - which, if you read the tech press, appears to be essentially everyone you've ever heard of - tremble in fear at the possibility of losing it. So, rather than guessing whether or not its ever getting booted from the App store for scraping content from The New York Times or any other outlet is a possibility, I put it to Instapaper's creator directly.
Here, in its entirety, is what Marco Arment had to say about how to keep your newsreader from getting yanked from the iTunes App store:
"I recognize that, as part of Instapaper's offline text-parser feature that powers the iPhone app, ads are sometimes removed. This is not an explicit goal, but usually a technical side effect: since the iPhone cannot run Flash, and guaranteeing offline access requires me to remove Javascript, many web ad formats cannot be shown offline on the iPhone or iPad. Image-based ads are supported, and are often included in Instapaper's offline text version.
If ads do get removed by the text parser, it's not as bad as some initially may assume: since each customer saw the complete page on the publisher's site before clicking Instapaper's Read Later bookmark, they already viewed the ads on the page.
I've spoken with many publishers about Instapaper, and their reactions have been almost unanimously positive. Many of them have even worked with me to ensure that their content is parsed properly by my text parser, and some have even integrated Instapaper links into their sites.
If any publisher elects not to have their content readable in Instapaper, I gladly add them to an exclusion list. So far, that list has only one entry for a small Idaho newspaper's site.
Usually, publishers recognize the value – building visitor loyalty, increasing user satisfaction, increasing retention – and are happy to be accessible in Instapaper."
I followed up by asking Marco whether or not news sites are friendlier toward Instapaper because its workflow means they first have to go to a news outlet's website and generate a pageview or two, whereas Pulse might mean they avoid going to the source news site at all:
"The NYT is historically very aggressive about this sort of thing. It wouldn't surprise me if this decision was made in isolation, without consulting with other departments, and without regard to whether it's consistent with the NYT's overall strategy.
If I ever believe that there's a good chance that the NYT would pressure Apple to remove Instapaper from the App Store, I'll just proactively block them from being accessed, and tell my readers exactly why they can't read The New York Times in Instapaper.
Instapaper is a general-purpose tool that my customers use to read content from thousands of publishers, large and small. No single publisher is critical to its usefulness.
But I don't foresee that at the moment."
Stay connected
Illustration by Rose Wong
Get the latest updates from
MIT Technology Review
Discover special offers, top stories, upcoming events, and more.