NASA Science Balloon Crashes
In the Australian outback, a huge NASA spacecraft has taken a hard fall.
What was suppose to be a regular day of balloon-launching in the Australian outback turned into balloon-dodging. A NASA balloon equipped with two telescopes to survey the sky at an altitude of 36,576 meters crashed on lift-off–a gust of wind sent the balloon sailing horizontally, it wiped through a fence and overturned a sports utility vehicle before smashing into the ground. The balloon narrowly missed nearby spectators.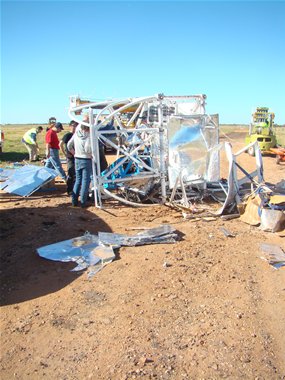 It's unclear how much damage the onboard science instruments sustained but by the looks of the video (below) of the incident, taken by the Australian Broadcasting Corporation (ABC), it can't be good. The balloon was carrying a gammy-ray telescope built by astronomers at the University of California, Berkeley, called the Nuclear Compton Telescope meant to study astrophysical sources in space.
According to ABC news, the crash was "gut-wrenching" for researchers watching, who have spent many years and ample resources on the multi-million dollar balloon. It was built by NASA's Columbia Scientific Balloon Facility in Palestine, Texas.
The researchers have been picking up the pieces and will conduct a full investigation of the accident. Meanwhile the Balloon Launching Center in Alice Springs will prepare for another balloon launch in May.
Stay connected
Illustration by Rose Wong
Get the latest updates from
MIT Technology Review
Discover special offers, top stories, upcoming events, and more.