Bloom Reveals New Fuel Cells
Its 100-kilowatt modules have been sold to Google, eBay, and Walmart.
The up-to-now secretive startup Bloom Energy took the wraps off its technology this week, unveiling a fuel-cell system that the company claims can run on a variety of fuels and pay for itself in three to five years via lower energy bills.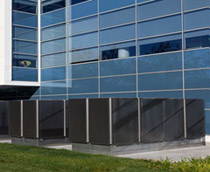 The company's founder and CEO, KR Sridhar, said at the official unveiling of the company on Wednesday that the technology–when it's powered by natural gas–can cut carbon dioxide emissions in half compared to the emissions produced conventional power sources, on average. Several major companies, including Google, eBay, and Walmart, have already bought Bloom's technology, and in the few months these fuel cells have been in operation, they've generated 11 million kilowatt hours of electricity (about enough to power 1,000 homes for a year).
According to Bloom Energy, electricity costs are lower than buying electricity from the grid because the fuel cells are efficient and because the electricity is generated on-site, avoiding the need for a grid to distribute electricity.
While Bloom is not releasing full details of the technology, it's a type of solid-oxide fuel cell (SOFC). Unlike hydrogen fuel cells proposed for use in vehicles, SOFCs operate at high temperatures (typically well over 600 ºC) and can run on a variety of fuels. They can be more efficient than conventional turbines for generating electricity. But their high cost and reliability problems have kept them from widespread commercial use.
Sridhar says Bloom's technology has made the fuel cells affordable. What's more, costs are expected to decrease significantly as production ramps up.
"All indications are that they have taken pretty conventional SOFC technology (zirconia electrolyte, nickel anode) and spent a lot of money to do a very good job of engineering and process development," says Jeff Bentley, CEO of CellTech Power, which is developing its own fuel cells that can run on fuels such as diesel and even coal. According to Bloom, the technology is based on planar solid oxide fuel cells that Sridhar developed as a professor at the University of Arizona.
Bloom sells 100-kilowatt modules. They're made of small, flat 25-watt fuel cells that can be stacked together. A complete 100-kilowatt module, with multiple stacks and equipment for converting DC power from the stacks into AC power to be used in buildings, is about the size of a parking space. The company says each module can power a small supermarket.
In addition to Google, eBay, and Walmart, Bloom's customers include Bank of America, Coca-Cola, Cox Enterprises, FedEx, and Staples. A 400-kilowatt system powers a building at Google that contains an experimental data center. Walmart has installed Bloom modules at two locations, where they generate between 60 to 80 percent of the electricity for the stores.
Sridhar said the long-term goal is to use the technology as both a way to generate electricity and to store it. It's possible to run the fuel cells in reverse, pumping in electricity to generate fuel. The system could then be used to store solar power generated during the day as a fuel for use at night. He says such a system, however, won't be available for another decade.
The company first started raising venture capital in 2001, and was the first energy company to be funded by Kleiner Perkins Caufield & Byers, a venture capital firm based in Menlo Park, CA, that was an earlier investor in Google. "They have spent a lot of time and money in field testing prior to making any public claims–that is refreshing for the fuel cell industry," Bentley says
Stay connected
Illustration by Rose Wong
Get the latest updates from
MIT Technology Review
Discover special offers, top stories, upcoming events, and more.