Ancient Human Genome Sequenced
Researchers say their subject had brown eyes, thick hair, and dry ear wax.
Thanks to new sequencing technologies, and a few tufts of hair rescued from a museum basement, researchers have reconstructed the genome sequence of a man who lived in western Greenland about 4000 years ago. Researchers from the University of Copenhagen were able to read about 80 percent of his genome at a level of accuracy comparable to the genome sequences of living people. (Only eight human genome sequences have been published to date.)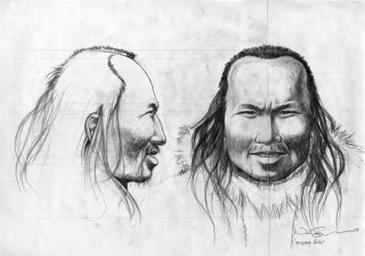 That level of accuracy allowed scientists to analyze 350,000 single nucleotide polymorphisms, or SNPs–spots of common genetic variation within the genome–enabling them to draw conclusions about both the physiology of the man and his origins.
According to a commentary accompanying the paper in Nature,
"he had an A+ blood group, brown eyes, non-white skin, thick dark hair and 'shovel-graded' front teeth typical of Asian and Native American populations. What's more, he had an increased susceptibility to baldness, dry earwax and a metabolism and body-mass index commonly found in those who live in cold climates."
By comparing the SNP data with that of several surrounding populations, researchers were able to pinpoint his geographical origin.
Surprisingly, the ancient eskimo proved to be most closely related to three Old World Arctic populations: the Nganasans, Koryaks and Chukchis of the Siberian far east. This suggests that there was a substantial and relatively recent migration across the Bering Strait and over North America to Greenland. The authors' analysis indicates that the Saqqaqs diverged from the Chukchis about 200 generations (5,400 years) ago, implying that the ancestral Saqqaqs separated from their Old World relatives almost immediately before their migration to the New World.
Scientists had previously analyzed DNA from Neandertal bone and tooth samples, but not to this level of accuracy. Sequencing ancient DNA samples is notoriously difficult, thanks to degraded DNA and contamination from bacteria, fungus and humans handling the samples. In this case, researchers say only Europeans handled the DNA, and the sample itself was found to have no European ancestry. They used sequencing technology from the company Illumina.
According to the New York Times, the hair, originally dug out of the permafrost at Qeqertasussuk on the west coast of Greenland in 1986, was kept in a plastic bag in the National Museum of Denmark. It was found with other waste, and the scientists speculate that it was the result of a haircut.
"There it moldered, unfrozen, until discovered by Dr. Willerslev, an expert on ancient DNA. Having spent two months digging for ancient human DNA in Greenland without finding any human remains, he concluded that ancient Greenlanders must have disposed of their dead by laying them on the sea ice. Only on complaining of his bad luck to a friend did he learn that the friend's father had found the hair sample 20 years earlier."
Stay connected
Illustration by Rose Wong
Get the latest updates from
MIT Technology Review
Discover special offers, top stories, upcoming events, and more.