Making Light of Ion Traps
Physicists have captured an ion using an optical trap for the first time.
The manipulation of single atoms and ions using light and electric fields is one of the defining features of modern science. These tools have given researchers a way to play with the building blocks of our world in a way that previous generations could only dream about. And the number of major breakthroughs that have come from this technology is legion: everything from Bose Einstein Condensates to quantum computing.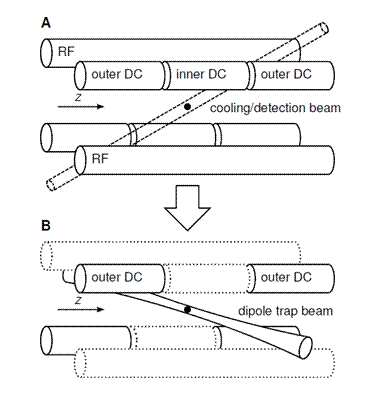 Curiously, though, the trapping of ions and atoms relies on different technologies. Since 1980, single ions have been trapped in radio frequency electric fields. These fields exert forces on an ion that are powerful enough to overcome the inevitable stray electric fields that might otherwise influence an ion.
On the other hand, researchers rely on optical traps to grab atoms. The first single atom was trapped in this way only in 1999.
But despite these differences, the trapping mechanism is quite similar in both these techniques. In an RF trap, the electromagnetic field acts on the ion's dipole moment, generating a force that keeps it confined. In an optical trap, the confinement arises from the optical dipole force. This is somewhat weaker than the forces in an RF trap. Physicists have never bothered with optical trapping on ions for fear that any stray electric field would whip the ion away.
But they can now put that fear to rest, say Tobias Schaetz and buddies at the Max Planck Institute for Quantum Optics in Germany. The reason is that these guys have done it: trapped a single magnesium ion in an optical trap for a period of milliseconds. What's more, their experiment is merely a proof of principle: significant improvements to the technique and the trapping should be relatively straightforward to achieve.
The ability to trap ions with optical fields opens up a number of new horizons. Optical traps can be more complex and more easily and finely manipulated than RF traps. They should give physicists a better bag of tricks to play on ions. These traps could be used to build better ion-based quantum computers and quantum simulators. They might also allow physicists to create and study the properties of 3D ionic crystals in more detail.
And after years of manipulating atoms and ions separately, physicists will find they can now play with both at the same time in an optical trap. That should allow researchers to study the interaction between atoms and ions in more detail than ever before.
All in all, cool stuff!
Ref: arxiv.org/abs/1001.2953: Optical Trapping of an Ion
Stay connected
Illustration by Rose Wong
Get the latest updates from
MIT Technology Review
Discover special offers, top stories, upcoming events, and more.