Drop Test for An Inflatable Heat Shield
NASA successfully tested a device to slow and protect a spacecraft descending on a planet's surface.
A "wind tunnel in the sky" experiment was conducted recently by NASA to test an inflatable heat shield that could safely slow down spacecraft as they enter planet's atmosphere at several times the speed of sound.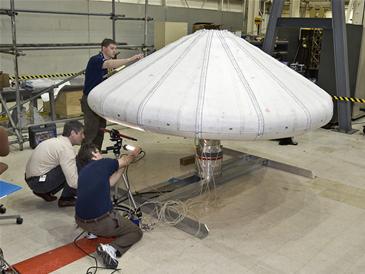 Called the Inflatable Re-entry Vehicle Experiment (IRVE), NASA launched the test flight in mid-August, marking the first time that anyone has successfully flown an inflatable reentry capsule. The test flight was conducted at NASA's Langley Research Center in Wallops Island, VA using a 50-foot Black Brant 9 rocket.
IRVE was vacuum-packed into a 15-inch diameter payload and lifted to an altitude of 211 kilometers. The heat shield itself was then released and inflated with Nitrogen in less than 90 seconds–it expanded to almost 3 meters wide and looked like a giant mushroom. IRVE was not recovered, it splashed into the Atlantic Ocean, but onboard cameras and sensors captured critical pressure and temperature data and fed that data to researchers on the ground.
The concept of an inflatable device for deceleration has been around for nearly 40 years, but until now materials have not been able to withstand the heat of reentry. The inflatable heat shield was made out of silicon-coated Kevlar–a lightweight material ideal for high-peak-heating conditions. The material surrounds a central instrument core like a folded umbrella–the top of the core holds the electronics, and the bottom holds the inflation system. The inflation system works similarly to air tanks used by scuba divers, according to NASA. (Read NASA's IRVE fact sheet.)
The test flight was a "huge success," said Mary Beth Wusk, IRVE project manager, in a NASA press release.
While NASA engineers are currently building a massive heat shield for the space agency's next Mars rover, the inflatable heat shield is an alternative idea, which would be more compact and lighter.
"We'd like to be able to land more mass on Mars," said Neil Cheatwood, IRVE's principal investigator. "To land more mass you have to have more drag. We need to maximize the drag area of the entry system. We want to make it as big as we can, but the limitation has been the launch vehicle diameter."
Wusk said that IRVE was a small-scale demonstrator. "Now that we've proven the concept, we'd like to build more advanced aeroshells capable of handling higher heat rates."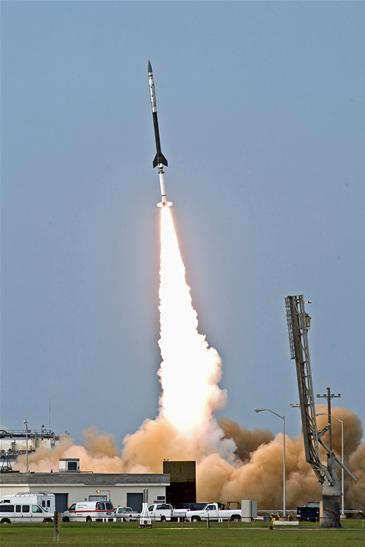 Stay connected
Illustration by Rose Wong
Get the latest updates from
MIT Technology Review
Discover special offers, top stories, upcoming events, and more.