A Smarter Search for What Ails You
Software searches through medical information by analyzing the structure of sentences in a new way.
Finding information on the Web isn't hard, as long as you know what you're looking for. Sometimes, though, the most useful information can remain hidden within the body of a complex document, and only the most carefully chosen combination of keywords will uncover it.
Semantic search technologies promise to help change this by returning more relevant information based on an understanding of the relationships between different words. Last week, Netbase Solutions, a company based in Mountain View, CA, released search software called Content Intelligence that organizes searchable content by analyzing sentence structure in a novel way. The company created a demonstration of the platform that searches through health-related information.
When a user enters the name of a disease, he or she is most interested in common causes, symptoms, and treatments, and in finding doctors who specialize in treating it, says Netbase CEO and cofounder Jonathan Spier. So the company's new software doesn't simply return a list of documents that reference the disease, as most search engines would. Instead, it presents the user with answers to common questions. For example, it shows a list of treatments and excerpts from documents that discuss those treatments. The Content Intelligence platform is not intended as a stand-alone search engine, Spier explains. Instead, Netbase hopes to sell it to companies that want to enhance the quality of their results.
The software uses an approach called natural-language processing to unravel the structure of sentences. Other semantic search technologies use the same approach but usually focus on keywords and how those words are related. For example, a tool intended for searching medical databases might be built to include information about common names for drugs and how those drugs are related to each other. As a result, those tools only work in specific subject areas and have to be adjusted whenever they are applied to a new topic, says Jens Tellefson, vice president of marketing and product strategy for Netbase.
In contrast, Netbase's software focuses on recognizing phrases that describe the connections between important words. For example, when the system looks for treatments, it might search for phrases such as "reduce the risk of" instead of the name of a particular drug. Tellefson notes that this isn't a matter of simply listing instances of this phrase, rather catching phrases with an equivalent meaning. Netbase's system uses these phrases to understand the relationship between parts of the sentence. Tellefson says that this means the system can be used in different subject areas and does not need constant retraining.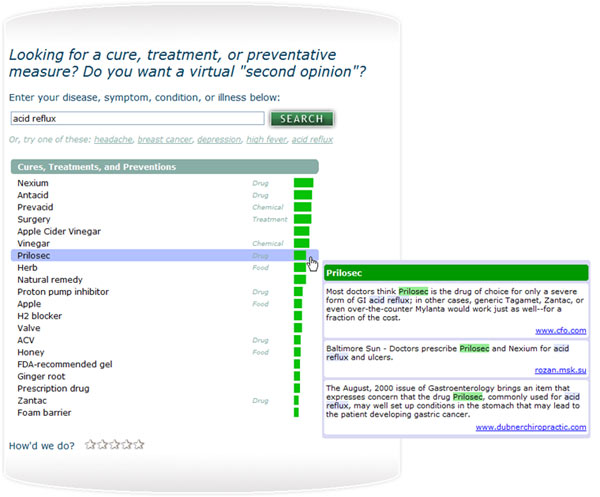 Spier adds that Netbase has worked for five years to develop an algorithm that can search through millions of documents looking for the sorts of phrases that suggest that a sentence might be interesting and relevant.
The Content Intelligence platform is the technology behind a search system called illumin8, offered by the publishing company Elsevier. That product uses Netbase's software to search through Web content and technical papers published by Elsevier. In response to a user's query, illumin8 lists the key researchers involved with a topic, companies that have created related products, and potential customers for applications of the technology.
Colby Ellis, CEO of Elsevier's engineering and technology group, says that the company hired Netbase because it wanted to build a tool that could make its content more accessible. Basic searches pull up lists of papers, which can be hard for a user to sort through. "Adding a technology that helps people discover what's actually in the content without having to read it all is an extremely valuable time-saver," Ellis says.
Susan Feldman, an IDC analyst who studies search technologies, says that Netbase's ability to deal with massive amounts of information on the Web could prove valuable. "Natural-language processing has always been constrained by having to do so much processing ahead of time in order to deal with a lot of information," Feldman says.
Spier says that this year, Netbase will focus on selling its platform to companies that offer health-care-related searches, but he stresses that it could easily be expanded to other subject areas.
Stay connected
Illustration by Rose Wong
Get the latest updates from
MIT Technology Review
Discover special offers, top stories, upcoming events, and more.