Chu Entertains FutureGen Alliance
Energy Secretary Steven Chu meets with proponents of a troubled clean-carbon project.
Potential Energy has learned that Energy Secretary Steven Chu met with representatives of the FutureGen Alliance today, reinforcing positive signals from Chu two weeks ago that the troubled project could be revived. The public-private partnership to prove the integration of coal gasification, carbon capture, and sequestration technologies was killed by the Bush Administration in January 2008 using what Congressional investigators have shown to be specious accounting.

In an email to TechReview today, Department of Energy press secretary Stephanie Mueller confirms that Chu and the Alliance had a "good discussion" and that the Secretary Chu "believes that the FutureGen proposal has real merit":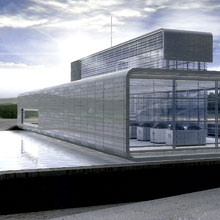 Secretary Chu believes that investment in carbon capture and storage research and development is critical to meeting our energy and climate change challenges. Unfortunately, the prior Administration simply walked away from FutureGen after years of work … In the coming weeks, the Department will be working with the Alliance and members of Congress to strengthen the proposal and try to reach agreement on a path forward.
Michael Mudd, FutureGen Alliance chief executive, struck a confident tone after the meeting about the prospects for reviving the project. "It is not certain but I think it is highly likely. We have a vehicle for funding it through the stimulus package. We have interest of the Obama Administration in seeing this go through. There's growing interest in reducing CO2 emissions. All of the aspects are there pointing towards [reviving the project]," says Mudd.

One attraction of the project is that it is more "shovel ready" than average–particularly for a capital-intensive energy installation. An environmental impact statement already issued under the Bush Administration, and a Record of Decision (ROD) from DOE formally approving the project seems to be in the works. "Step one is for new sec of energy to issue the ROD. With that we can do a detailed design and start procurement. If that happens quickly we can begin the heavy construction next year, and even some light construction this year," says Mudd. The plant could actually start up in as little as three years from now, with "90% carbon capture and sequestration from Day One," according to Mudd.

Which would be just in time for Obama's re-election campaign.
Stay connected
Illustration by Rose Wong
Get the latest updates from
MIT Technology Review
Discover special offers, top stories, upcoming events, and more.