Turning Visitors into Customers
Visiting a company's website could result in a cold call.
Business websites often encourage visitors to leave contact information so that sales staff can get in touch, but this only rarely works. "How do you leverage otherwise anonymous traffic?" asks Martin Longo, chief technology officer of startup Demandbase, based in San Francisco. Last week, his company released a tool, called Demandbase Stream, that aims to answer this question. It digs up information on Web visitors in real time, helping salespeople follow up on a visit with a cold call and a pitch.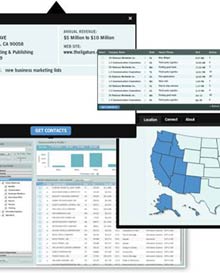 Applications such as Salesforce.com already let sales staff keep track of existing customers or potential customers, but Demandbase Stream falls into a newer category of tools designed to help them find new customers in the first place.
Demandbase Stream, which is aimed primarily at companies marketing to other companies, cross-references the Internet Protocol (IP) addresses of computers accessing a website with publicly accessible information and data from business databases. On a ticker tape that runs along the top of a user's screen, it shows the last 25 visitors to a website. If the user clicks on a visitor, the software shows her the name and location of the company that the visitor comes from, details about the company, and information about the visitor, such as the search terms that brought her to the site. Together, this offers clues about what the visitor might be interested in buying.
Detailed information is vital for spotting potential customers. Just knowing that someone from IBM visited a website won't help much, since Big Blue has offices all over the world. Demandbase Stream, however, shows which IBM office the visitor came from, and what departments are located there. This basic service is free, but the user can choose to access another tool provided by the company–Demandbase Direct–that digs up contact information for specific people for a fee. The software can ignore traffic from nonbusiness users by filtering out data from home Internet service providers like Comcast. It can also filter out traffic that originates from outside a given geographical area of interest.
To use the service, a company just has to embed a snippet of code into pages on its site. The code can be pasted into every page or only at specific points to get information relevant to certain products. The code lets the Demandbase Stream software collect raw data from a visitor–for example, how many pages he views. It also records and sends IP address information to the Demandbase Stream software for further analysis.
When a visitor comes to the site, it is relatively easy to identify her company and geographical location, Longo says. The hard part is combining this raw data with business information from sources such as D&B/Hoovers and Lexis Nexis in order to get much more detailed information. "We have a lot of technology driving matching, linking, and resolving entries correctly," Longo says.
If the user decides to buy contact information, algorithms score the results based on how appropriate they are to his product. The system also checks against contacts that the user already has, in order to avoid selling duplicates. Longo also stressed that all contacts in Demandbase's system have the chance to opt out.
Laura Ramos, a principal analyst at Forrester Research who focuses on business-to-business marketing trends and technology, says that services like Demandbase could prove useful, but adds that it may be hard to measure its impact on sales and marketing. "Until we can demonstrate that automation actually gives a reduced cost of customer acquisition," Ramos says, businesses may be reluctant to spend money on such services. Still, she believes that marketing departments could use Demandbase Stream to build very specific advertising campaigns, targeted at the exact type of company already visiting their website. Ramos also notes that competition with other startups in the field is fierce withother start-ups, including Zoominfo, Leadlander, and Hubspot, is fierce. But Longo says that Demandbase does a better job of integrating relevant data.
Demandbase recently received funding from Adobe Systems, Altos Ventures, and Sigma Partners, and Longo says that the company is working on adding support for the professional social-networking site LinkedIn, so that a user can see links between his network of contacts and visitors to a corporate website.
Stay connected
Illustration by Rose Wong
Get the latest updates from
MIT Technology Review
Discover special offers, top stories, upcoming events, and more.