Library of Congress Photos on Flickr
Flickr users could help identify people and places in collections of photos.
There was a time, a little more than a decade ago, when most pictures were taken without any metadata. Analog cameras just captured the image, not the time, date, and place. To identify the subjects in the picture, people wrote names on the back of the developed photos. Now, however, we have Flickr and other digital photo services that automatically organize pictures chronologically. And "tagging," by the photographer or anyone else, has replaced the messy scrawl on the back of snapshots.
The Library of Congress has noticed this trend and is hoping that Flickr users help it learn more about its own photo collections. More than 3,000 of its historic photos are up for tagging and commenting. The Library of Congress hopes that people will add valuable information that might otherwise be impossible for it to find. The pictures, which are stunning in their quality, were taken from the early to mid 1900s, and the subjects range from baseball players to Rosie the Riveter types during World War II.
To view the photos on Flickr, go to http://www.flickr.com/photos/Library_of_Congress. While you don't need a Flickr account to see the photographs, you will need one to add comments and tags.
Below are some examples from the collection.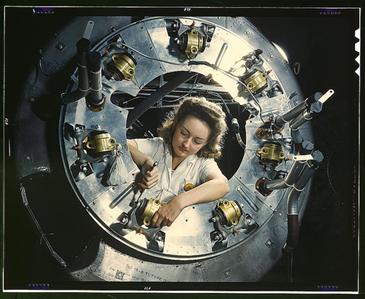 Part of the cowling for one of the motors for a B-25 bomber is assembled in the engine department of North American [Aviation, Inc.]'s Inglewood, Calif., plant
Credit: Alfred T. Palmer
Geologist examining cuttings from wildcat well, Amarillo, Texas
Credit: John Vachon
Helene Dutrieu [plane]
Credit: Brain News Science
An experimental scale model of the B-25 plane is prepared for wind tunnel tests in the plant of North American Aviation, Inc., Inglewood, Calif. This plant produced the B-25 bomber
Credit: Alfred T. Palmer
CarrFork Canyon as seen from "G" bridge, Bingham Copper Mine, Utah. In the background can be seen a train with waste or over-burden material on its way to the dump
Credit: Andreas Feininger
Stay connected
Illustration by Rose Wong
Get the latest updates from
MIT Technology Review
Discover special offers, top stories, upcoming events, and more.