Virtual and Real Play Combined
A mixed-reality foosball game turns the tables on real-world players.
A mixed-reality foosball, or table soccer, game, which combines players from the virtual world Second Life with players from the real world, debuted last week at the Ars Electronica Festival 2007, in Austria. It was designed by the Sociable Media Group at the MIT Media Lab.
Named the Stiff People's League because its original design called for virtual players' avatars to attach themselves to the game pieces on the foosball rods, the game plays on the relationship between the real and virtual worlds. The game will feel quite different to a player, depending on which world she comes from: to virtual players, it's a life-size soccer stadium where they run around kicking the ball. To real-world players, it's a foosball table where the goal isn't to hit the ball: it's to create obstacles for the opposing team's avatars, and to knock those avatars out of the way.
"This isn't a game that the virtual players augment," researcher Drew Harry says. "It's a game that the physical players augment."
Real-life players function as team captains, hiring dream teams of avatars and paying them in Second Life's currency–Linden dollars–for their athletic expertise. Harry says that the plan is to develop a class of star athletes who can command high prices.
There's something strange about the way that Second Life's economy connects to that of the real world, Harry says. While U.S. dollars can be traded for Linden dollars at a rate of about US$1 to L$270, inside Second Life, people tend to think in terms of Lindens rather than dollars. (See "Making Money in Second Life.") As a result, many people set avatars to unskilled tasks–such as staying in one location to attract traffic–inside Second Life, with little payoff in terms of real-life dollars. "There's no reason for someone to spend an hour to earn 20 cents," Harry says. While currently the best ways to make money in Second Life are to build objects or rent land, Harry says that his group is interested in exploring whether people can practice other forms of skilled labor within Second Life.
But getting too caught up in philosophical underpinnings would miss the point of playing a game. "It's really fun to hit avatars," Harry says. "It's very much a hand-of-God experience."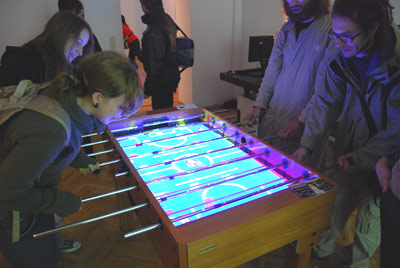 Stay connected
Illustration by Rose Wong
Get the latest updates from
MIT Technology Review
Discover special offers, top stories, upcoming events, and more.