Michael Perlmutter '73, SM '75, EE '75
Founding a fiber-optic firm and MIT family.
Mike Perlmutter's life has unfolded like a classic immigrant story. Perlmutter emigrated from Romania at age 14 with his mother, arriving in New York City with $7. He went on to attend MIT and later cofounded Fibersense Technology, a successful guidance systems company. Along the way, he met and married Yvonne Walkowski '74, and both their daughters attended the Institute, too–Sarah '02 and Ruth '04. "Who would have thunk that?!" Perlmutter says.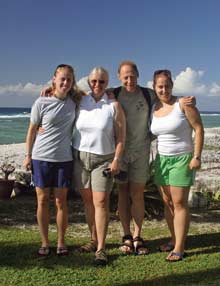 After MIT, Perlmutter worked at Raytheon and Northrop, developing gyroscopes. When Northrop closed its Massachusetts plant in 1994, he was laid off. But with help from the company, he and Joe Bresman '66 cofounded Fibersense in Canton. An avid biker, ­Perlmutter admits he chose that location so he could cycle the 34 miles round trip from his home in Sherborn.
Fibersense developed compact, solid-state fiber-optic gyroscopes for applications like missile defense, satellite imaging, and image gathering for aircraft. "Fibersense made some of the most accurate guidance systems in the western world," Perlmutter says. One commercial project involved creating a system for New York City tour buses; when a bus reached a designated spot, a digital recording would play, providing information about that landmark.
In 2002, Northrop Grumman bought Fibersense for $44 million and hired Perlmutter as director of strategy and planning in the navigation and systems division–still within biking distance of home, luckily. He's also an ethics officer, tackling issues like sexual harassment and disputes over whose name should be on a patent. "It's sort of a combination of a priest or rabbi and a lawyer," says Perlmutter, who particularly enjoys this role. He bases his decisions on two criteria: "Would it be okay if this were printed on the front page of the Boston Globe?" and "Would my grandmother approve?"
Despite his successful career, Perlmutter says it's not that interesting. He would much rather talk about his family. Yvonne is a principal engineer at Mitre, and Sarah and Ruth are in veterinary and medical school, respectively. All four are avid skiers and scuba divers, and they've traveled together all over the world. They love to converse about scientific or technical issues, Perlmutter says, but he doesn't attach much significance to the fact that his entire family attended MIT. Still, he says with a laugh, "It's nice that everyone knows what a derivative is."