The founder of one of the first online payment systems has launched a new way for people to buy goods over the Internet or via their cell phones. The new service, called Voice Pay, uses biometric voice analysis to authenticate users. The company says its technology is so reliable that it will guarantee all payments.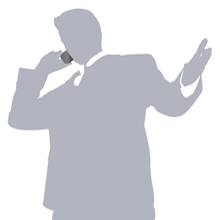 According to founder Nick Ogden, who also set up the World Pay scheme in 1994 (a predecessor of PayPal), Voice Pay should make it much easier to buy items online or on the go, while dramatically reducing fraud. Voice authentication is the way to go, Ogden says, because "the world is becoming increasingly more mobile, as hardware becomes increasingly keyboardless."
To use Voice Pay, consumers first need to set up an account. This one-time enrollment process involves calling a Voice Pay number from a cell phone and establishing a user name and password, as well as providing credit-card information. The consumer will also be asked to register a particular cell-phone number and give a voice print by repeating a series of randomly generated numbers. "It takes about five minutes to do," says Ogden. "Then you're ready to shop."
There are a number of ways to use the system. People can shop online at participating stores by clicking on a Voice Pay icon on the store's website and then entering their user name and password. Once the customer is logged into Voice Pay, the system will automatically dial the cell-phone number previously registered to the account. An automated attendant will then initiate a challenge-response procedure, asking the customer to repeat two randomly generated four-digit numbers into the phone. The system will then compare the utterances to the voice registered with the account and, if the two match, the automated attendant will list the details of the purchase and ask if the account holder wishes to proceed. To go ahead with the purchase, all the account holder needs to say is "yes," says Ogden.
Account holders will also be able to buy goods when they are not online just by using their cell phone. If a customer sees an item advertised in a newspaper or magazine that she wishes to buy, she simply calls the Voice Pay number and keys in a nine-digit product code listed next to the item. The user is then prompted to say two randomly generated numbers. If the user's voice matches the voice associated with the account, the transaction will be completed and the item delivered to the registered address.
The biometric voice-print system behind Voice Pay was developed by Dublin-based Voice Vault. Voice Vault's software analyzes 117 different parameters from the user's voice to build up a unique profile of her vocal tract. This profile is independent of what the person is saying or of any kinds of background sounds, says Vance Harris, chief technology officer at Voice Vault.
Some banks are now moving toward a two-channel authentication approach similar to Voice Pay's, in which both the Internet and another channel such as a phone line are used to authenticate account holders, says Ross Anderson, a professor of security engineering at Cambridge University, in the United Kingdom. But while this added layer of security is to be welcomed, voice prints have yet to prove themselves.
"Experiments with many previous systems over the past 20 years have shown that voice prints just aren't good enough for unattended operational use in this kind of application," Anderson says. "Either you set the threshold so that everyone's accepted–fraudsters too–or you get too many false negatives."
Voice Pay claims to be different. Unlike older approaches to voice verification, which analyze the waveforms of a person's voice by breaking it up into its constituent fundamental frequencies, Voice Pay's system uses vocal samples to create a model of the person's throat. Dutch bank ABN-AMRO is currently installing the same underlying technology for its four million customers, says Harris.
Voice Pay won't reveal the false-acceptance and false-rejection rates for its system, however. It argues that consumer confidence will come from the fact that Voice Pay will guarantee all payments.
"You will always get false matches," says Harris. But the accuracy of the engine at this stage makes them so improbable that the system is more secure than existing payment systems, he says.
In fact, fraud should be dramatically reduced, says Ogden, because there's no need to dish out credit-card details during a transaction.
Since the system was quietly launched a month ago, more than 120,000 users have registered for accounts, says Ogden. But they won't be able to use their accounts until retailers come onboard and start including the Voice Pay icon within their shopping baskets.
Stay connected
Illustration by Rose Wong
Get the latest updates from
MIT Technology Review
Discover special offers, top stories, upcoming events, and more.