Is Twitter Here to Stay?
A new online messaging tool is hot, but it may be too banal to last.
Last week I wrote about Jott, a useful tool for capturing thoughts that occur to you when you're away from your computer and unable to write them down. You call Jott's toll-free number from your cell phone and leave a brief voice message; workers at an Indian call center transcribe your message into text and e-mail it to you or to specified friends or coworkers.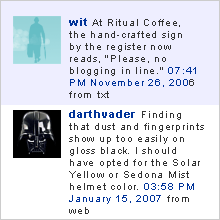 Jott made its first big splash at the Technology, Entertainment, and Design (TED) conference in Monterey, CA, in early March, and it has already gained thousands of enthusiastic users, who "jott" everything from shopping lists to song lyrics. But in the competition for consumer and media buzz, Jott has been up against another free service that also uses cell phones and the Internet to capture moments in time, this one with a social twist. It's Twitter, which essentially turns the one-to-one channels of instant messaging and phone-based SMS text messaging into broadcast media.
Twitter members use the company website or their own cell phones to compose missives up to 140 characters in length, almost always answering the trademark Twitter question, "What are you doing?" Once a member submits a message to the site or texts it to the short code 40404 (in the United States), it goes out to the phones and browsers of the people who've joined that member's social network–his or her "followers," in Twitter lingo. Every four minutes, the accumulated messages are also posted briefly to Twitter's public timeline, which anyone can read on the Web.
Twitter had about 100,000 members as of late March, and membership has been doubling every three weeks, according to Twitter engineer Biz Stone. Members exchange an astonishing number of updates every hour, ranging from the maddeningly trivial ("Just placed a bid on eBay for an auction I won't win") to the mildly interesting ("Portrait of a writer on deadline: Staring into my near-empty fridge. Peanut butter, no bread. Cereal, no milk. Bottle of Veuve, no party").
In that respect, Twitterers resemble bloggers, except that most updates have a rawer, more dashed-off flavor–which is to be expected, since they're also far shorter and more ephemeral than blog posts. Members like the service, in Stone's view, because it lets them stay connected with friends without having to think about technical details such as their friends' instant-messaging handles or which cellular carrier they use. Twitter is "a sophisticated, device-agnostic, social message routing system that nobody realizes they need until they try it," Stone says. "We've lowered the barrier to keeping in touch such that the only thing that matters is what you and your friends are doing."
The guts of Twitter is a system that quickly matches new messages coming in from members with the followers who have signed up to receive them, then retransmits them using each follower's preferred channel: instant message, SMS, or the Twitter website. Stone says the company completed a working version of the software in only two weeks using Ruby on Rails, a programming language and a set of prefabricated software modules widely employed by developers of the new raft of Web services known as Web 2.0. The hard part, he says, was "navigating the business aspects of the mobile industry. It took us months to get a short code and figure out how to play nice with all the major U.S. and international mobile carriers." (SMS messages to Twitter incur the usual carrier fees of $0.10 to $0.15 per message.)
The company is also grappling with its own sudden growth, says Stone. The unanticipated storm of Twitters has resulted in occasional slowdowns and downtime. "We're looking for a senior engineer experienced at developing large-scale systems," he pleads.
Stone is a longtime collaborator of Blogger cofounder Evan Williams, who owns Twitter's parent company, Obvious. But "obvious" isn't the word some onlookers are using to describe Twitter's utility. While it has some high-profile users, such as presidential candidate John Edwards and former Microsoft blogger Robert Scoble, many bloggers have dismissed Twitter as a giant distraction, full of news flashes about which variety of latte a friend just ordered at Starbucks.
Dedicated Twitter users defend the service, suggesting that the daily minutiae actually add up to something significant. "Asking 'who really cares about that kind of mindless trivia about your day?' misses the whole point of presence," writes Liz Lawley, director of the Lab for Social Computing at Rochester Institute of Technology. "It's about letting the people in your distributed network of family and friends have some sense of where you are and what you're doing. When I travel, the first thing I ask the kids on the phone when I call home is, 'What are you doing?' Not because I really care that much about the show on TV, or the homework they're working on, but because I care about the rhythms and activities of their days."
But Twittering became such a fashionable pastime at TED and at the following week's South by Southwest interactive technology conference in Austin, TX, that other observers wonder whether it is more than a fad. "Twitter was impossible to escape at South by Southwest," says Jamais Cascio, an independent "foresight consultant" and cofounder of futurist news site WorldChanging. "I think it went through the entire hype cycle–from nobody knowing about it to 'What do you mean you don't use it?' to 'Twitter? Do you still have that?'–in about four days."
But at least a few independent Web developers are still enamored with Twitter, and they're using the programming interfaces provided by Obvious to build mashups that give messages more context. If Twitter users send a specially formatted message to the service giving their current location, all their subsequent Twitters will include that information; Maryland-based developer David Troy took advantage of this feed to build Twittermap, which displays each new message above the user's location on a Google Map.
Later, Troy introduced an animated version called Twittervision, which comes as close to embodying the phrase "global conversation" as anything on the Web. The Twittervision screen depicts the entire earth (again, using map data from Google) and slides east and west to highlight the latest geocoded messages from Twitterers around the world. Say you're in Tanzania and you see an interesting Twitter pop up over Tokyo. You can respond via phone or the Web, and within 60 seconds your own Twitter will appear over Africa.
Nat Torkington, a New Zealander who runs open-source conferences for technology publisher O'Reilly Media, comments that Twittervision is "a hypnotic glimpse into the lives of people around the world." He calls it "a complete waste of time"–but "in the same way that conversation, casual sex, and reading are wastes of time."
Stay connected
Illustration by Rose Wong
Get the latest updates from
MIT Technology Review
Discover special offers, top stories, upcoming events, and more.