Alumni who work at MIT do not pass secret signals in the hallways. They usually discover a fellow grad only when the subject comes up in conversation. However, there are plenty of them: 29 percent of the faculty, 6.5 percent of the staff, and 32 percent of department, lab, and center directors have MIT degrees, according to the Human Resources Department. And alumni forging their careers at MIT do share a deep loyalty to the Institute, a personal perspective on MIT life and culture, and empathy for the students' intense workload.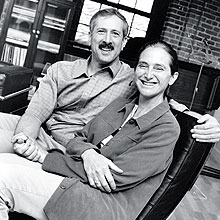 Lifer or Returnee?
Alumni employees sometimes divide themselves into lifers, who stayed after graduation to teach or work, and returnees, who worked elsewhere before coming back to MIT.
"I'm an extreme form of lifer," says faculty chair Steven Lerman '72, SM '73, PhD '75, who teaches in the Department of Civil and Environmental Engineering. "I got all my degrees here and started to work here right away." Lerman was 23 when he began teaching. "I was very excited about being a faculty member here," he says, even though most of his first graduate students were older than he was. "I was a little nervous, but I probably understood their lives better than if I was 30 years older."
Lerman is also a notable example of commitment to campus life. Beyond teaching and research, he's led major Institute initiatives including Project Athena, MIT's pioneering computer networking project; now he directs the Center for Educational Computing Initiatives. Lerman and his wife, Lori Lerman, even sold their house in a Boston suburb to become housemasters of the Warehouse, a small graduate dormitory on Albany Street.
The transformation from student to employee means a new role and, sometimes, new clothes. "I'm enjoying working at MIT very much," says Sloan management professor Erik ­Brynjolfsson, PhD '91, "but I do remember a few aspects of my transition, like trying to wear a suit and tie a lot for the first couple of years so other faculty wouldn't think I was still a student."
The Volunteer Path
Sherwin Greenblatt '62, SM '64, the former president of Bose, may be an extreme returnee. After Greenblatt retired in 2002, he began volunteering with the MIT Venture Mentoring Service (VMS), a group that helps MIT community members start their own businesses.
"Before I knew it, I was the director because I was so enthusiastic," ­Greenblatt says. "And I'd be happily doing that today if I hadn't gotten a call from the president."
In August 2005, MIT president Susan Hockfield asked Greenblatt to take on a huge role in governing MIT. The executive vice president for administration and finance was leaving, and ­Hockfield needed someone on the job fast. ­Greenblatt agreed to take the job on an interim basis. "It's been a phenomenal experience," he says. "It's very satisfying to come back and share business experience where there are people and activities that can change the world."
Easy Community Connections
One benefit of the alumni connection is a strong rapport with students, says Kristine Girard '86, associate chief of MIT's Mental Health Service. As an alumna who returned after earning an MD at the University of Michigan and working at Massachusetts General Hospital, she feels comfortable dropping in on study breaks in the dorms or visiting the student center to chat. Those casual connections may help people in the MIT community take advantage of diverse mental-health services, such as counseling for exam anxiety or substance abuse as well as urgent care and referrals.
"I think outreach is very important so we don't only see the people who are struggling, and so we put a friendly face on the service," says Girard. "And personally, I can understand trying to balance the deadlines and not being able to do everything."
Culture and Balance
Dean for undergraduate education Daniel Hastings, SM '78, PhD '80, values the balance between alumni insight about the Institute and knowledge from outside. He earned MIT degrees in aeronautics and astronautics after getting an undergraduate degree at the University of Oxford. In 1985 he returned to MIT to teach after several years in industry. He also spent two years in Washington, DC, serving as chief scientist of the U.S. Air Force.
"Having alumni on campus preserves a certain amount of MIT culture in the long run, because the students come and go but the faculty stay," ­Hastings says. "And it means that students feel there are people who understand their experience." However, knowing how other institutions solve problems and create opportunities can enhance policy discussions. "Getting that outside perspective and bringing it back is a big advantage," he says.
Personal Imprint
Michele Oshima, an Office of the Arts director, looks for alumni when hiring the coördinator of student programs. "I find it helpful to have a colleague who has survived MIT, is generationally similar to students, and has been active in the arts," says Oshima. "MIT graduates don't have the same learning curve as someone from outside."
Christina Chestnut '06, the current coördinator, says it's easier to do her job because she has friends in the campus arts organizations. "I am looking through a new lens as a staff person," she says, "but I understand it from the perspective of a student. That helps."
For all employees, MIT offers an opportunity to work with smart, creative people and contribute to an organization focused on creating new knowledge and benefiting the world. Alumni or not, MIT employees soon learn cultural basics like why students do problem sets rather than sleep, love hacks, and relish sci-fi marathons. It's all in the firehose.
Stay connected
Illustration by Rose Wong
Get the latest updates from
MIT Technology Review
Discover special offers, top stories, upcoming events, and more.