Sidney Silber once received an MIT scholarship. "I have never forgotten that very meaningful generosity," he says, adding that he was happy to return the favor by funding several charitable gift annuities. His latest gift establishes the Jean and Sidney Silber Cancer Research Fund at MIT.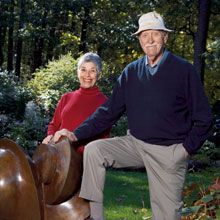 "The government has cut back on cancer research at many institutions," he says, "so we felt that under the leadership of President Susan Hockfield, MIT is a great place where this important research can move forward. We have no doubt one day there will be a cure."
Silber says he and his wife chose a gift annuity "because it gives you a phenomenal income, there's no risk involved, the institution benefits, it's a tax break, and it's a great way to diversify your investments."
After earning a bachelor's degree in mechanical engineering at MIT in 1939, Silber worked as a thermodynamics engineer at Boeing and as an analyst and reporter of experimental test flights for seven years. For the next 16 years, he was CEO of Silber Bakeries, a family business, where his mechanical-engineering background helped him build and organize a new production plant and design equipment. Later, he founded the Commercial and Industrial Realty Corporation in Baltimore and for 27 years developed residential, commercial, and industrial properties. He retired in 1990 and now enjoys gardening and sculpture. He is proud that one of his works in bronze, Wave, stands at MIT's Sailing Pavilion.
"I decided to make a gift now rather than include MIT in my will," he says. "This way, MIT has an immediate benefit and can use the money for research. It seems to me that if you're going to make a gift for cancer research, the sooner the better."
For giving information, contact Judy Sager:
(617) 253-6463
jsager@mit.edu.
Or visit giving.mit.edu.
Stay connected
Illustration by Rose Wong
Get the latest updates from
MIT Technology Review
Discover special offers, top stories, upcoming events, and more.