"One hundred seven." I tremble in disbelief as I lay down WAYBILLS and announce its ungodly score to take a 99-point lead in the most important ­Scrabble game of my life. My opponent, former national and world champion Brian Cappelletto, replies with RADICATE for 65, but he's dead. I win 459-410 to take sixth place in the 2005 National Scrabble Championship. This outcome seems almost ludicrous: I was in 72nd place out of 87 halfway through the 28-game marathon. But in the last 14 games, I lost only once against the strongest field I'd ever faced. I emerged as one of the top 10 Scrabble players in North America.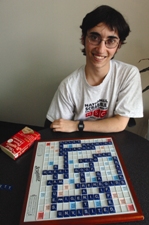 The National Scrabble Association sanctions several tournaments every weekend across the country. But with a $25,000 prize at stake, the National Scrabble Championship (in 2006 renamed the U.S. Scrabble Open) is the highlight of the circuit; serious players consider it the most prestigious tournament in the world. (The World Scrabble Championship uses a different, larger dictionary and isn't officially rated.) ESPN tapes the best-of-five showdown between the top two finishers and airs an hour-long show about the competition each fall. It's must-see television. Last year, former world champion ­Panupol ­Sujjayakorn of Thailand made the finals. That he can't comfortably speak English is irrelevant; he's a wicked machine at executing solid Scrabble strategy.
When playing top-notch opponents like Cappelletto or Sujjayakorn, I assume that they, like me, have memorized all 83,667 valid words of up to eight letters. Even then, the game requires the foresight of chess and the inferential strategy of poker. I must both maximize my score on the current turn and keep strong letters on my rack to increase the probability that I can maximize my score on future turns. I further aim to squelch opponents' opportunities by guessing, based on their previous plays, which tiles they are most likely to be holding. By tracking tiles as they are played, I can also deduce exactly which tiles my opponent has in the endgame and plan my final plays accordingly.
In other words, competitive Scrabble is a math game, and the level of strategy involved is one reason I keep playing. To sharpen my skills, I collaborated with John O'Laughlin, a fellow Scrabble expert, to write an artificial-intelligence and analysis tool called Quackle. (Anyone can try it–we made it free and open source–at quackle.org.) I usually play five games a day against Quackle and win about half the time, but I find the program most useful for analyzing my tournament losses: it can show me what I missed.
I started playing Scrabble seriously four years ago, after reading Word Freak by Stefan Fatsis. Among the awesome players it follows are Joel Sherman, who began competing full time when gastrointestinal reflux prevented him from keeping a job, and Joe Edley, who takes a Zen approach to the game and attributes his success to deep breathing during tournaments. Sure, they came across as obsessive, but what they were doing was so bloody cool. Suddenly, I wanted to become the best player in the world. I wrote a computer program to quiz me on seven- and eight-letter words scrambled into alphabetical order. For thousands of hours over the last few years, I have stared at garbage like DEEINTUV, AAEELRTV, ACENOORT, AAEGIMNT and found "DUVETINE! VALERATE! CORONATE! AGMINATE and ENIGMATA!" until I had solved the "alphagrams" of all the sevens and eights (53,795 words total) at least twice.
This April, I won the Boston Area Tournament in Westford, which attracted the best players in the continent. I bested Joel Sherman, now a good friend, in a wild final game. My last two moves were ALIENORS and then, after he took a brief lead with MOATING, UNVISITED through a disconnected S and D. My 15-5 record propelled my national rating to number one in the National Scrabble Association. I had achieved my goal.
I finished 12th at the open this year, but I'll be back. And no matter what, I know that playing Scrabble is good for my brain. In a brain-imaging experiment at the University of Pennsylvania, images taken while I solved eight-letter alphagrams revealed brain metabolism an order of magnitude greater than that seen in people answering other knotty questions–scientific proof that Scrabble makes you smarter.
Stay connected
Illustration by Rose Wong
Get the latest updates from
MIT Technology Review
Discover special offers, top stories, upcoming events, and more.