A First Look at Windows Vista
Microsoft plans to introduce its new operating system to consumers in January. Is it worth upgrading?
"You never get a second chance to make a first impression."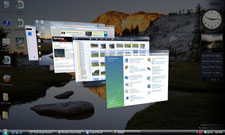 It's a tired saw, quoted in articles on topics from interviewing for jobs to designing websites. But it concisely conveys a basic truth of human nature: we draw conclusions about new experiences, new people, and new things very quickly. My first encounter with Microsoft's new Windows Vista was no exception.
Last week, I installed the "RC1" version of Vista–officially post-beta but still not yet ready for prime time–on two computers. My experiences on the two machines were quite different, but my overall impression was the same: Microsoft has a long way to go in the next three months if it hopes Vista will revive its image the way that Mac OS X revitalized Apple's.
Installing Vista on two computers might seem a bit excessive, but the Windows operating system is made for two different kinds of processors: 32-bit and 64-bit. By working with bigger chunks of data, the newer 64-bit processors can better handle intensive tasks such as video editing and playing advanced games. But most desktop and laptop computers in use–and plenty of those on store shelves–have older 32-bit processors, so Microsoft built two versions of Vista.
I started by installing the 32-bit version of Vista on an older Dell Latitude laptop. While it's possible to upgrade from Windows XP to 32-bit Vista–leaving all of your programs and data intact–I elected to do a clean install. Downloading Vista and burning a bootable DVD was simple, and the installation went smoothly.
My first reaction: Vista looks slick. The old squared-off windows now have rounded corners. The rectangular "start" button in the lower-left corner of the screen has been supplanted by a spiffy circle with the Windows logo. A transparent rectangle, called the Sidebar, runs down the right side of the screen. The Sidebar holds "gadgets," mini-applications that provide quick access to frequently needed information and tools. Vista comes with 11 such gadgets, 3 of which load the first time you start up: an analog-style clock, a slideshow viewer, and a newsreader with a collection of headlines from MSNBC.com and Microsoft. It's all unquestionably reminiscent of the Dashboard and Widgets in Apple's Mac OS X Tiger.
Of all the Sidebar applications, the Feed Headlines gadget–which can be customized with your favorite RSS feeds–stands out. Although Apple and the Mac community have created more than 2,300 Widgets to date, I have yet to find an RSS newsreader as flexible as Vista's.
The new Instant Search feature is also handy but, again, reminiscent of OS X. As with Apple's Spotlight, search boxes appear at the top of every window, making it easy to hunt down the file you're seeking. And searching with Instant Search is both faster and more effective than searching in Windows XP. After copying files from my personal PC to the test laptop, I typed "DNA sequencing" into the search box.
Despite the fact that none of the files had been indexed, Vista found every relevant file within two minutes–even those that used some variation of the word "sequencing." This is an enormous improvement over my consistently frustrating experiences with Windows XP's search function, which frequently did not find the file I wanted and, for any comparable search, took much longer. And if you'd like to improve search results even more, Vista allows you to add "tags"–short text descriptors like those used on websites such as del.icio.us and Flickr–to any file.
Vista also features a top-notch photo organizer. The Windows Photo Gallery is a huge step up from any built-in photo organizer I've seen, including Apple's iPhoto. You can sort pictures by tag, date taken, or the more familiar folder system. It also includes easy-to-use tools for cropping, rotating, or adjusting the color or exposure of your pictures. It won't replace photo-editing software for anyone halfway serious about photography, but for the casual snapshot taker, the Photo Gallery is useful.
Unfortunately, I couldn't evaluate the new Windows Media Center, which is designed to make it easy to find, organize, and play back all "digital entertainment" files, such as live and recorded TV (if you have a TV-tuner card), movies, music, and pictures. Each time I opened it, the program crashed within about 30 seconds. (Since I signed up for the Vista feedback program, Windows was kind enough to send an automated message assuring me that whatever caused the problem on my machine has been identified and will be fixed in the Vista final release.)
Yet one of the most irritating aspects of my Vista experience so far has to do with its new security features. There are improvements: in addition to Windows Firewall, Vista includes Windows Defender, Microsoft's anti-spyware and malware scanner, and Internet Explorer 7 has a built-in Phishing Filter that sends website addresses to Microsoft, which checks whether they're fake sites known to be posing as, say, a bank or a credit-card company's site.
But Vista's User Account Control is the most annoying "security feature" I have ever encountered. It's designed to prevent viruses and other malware from automatically installing themselves or initiating programs without the user's knowledge. However, its constant requests for confirmation that "you started this action"–be it launching a program built into Vista or installing new software–quickly become irksome.
In many respects, the 64-bit version of Vista I installed on my personal laptop is identical to the 32-bit version. The biggest difference for me was Aero, Vista's stylish visual environment, which can run only on computers with powerful CPUs, plenty of RAM, and fairly recent graphics cards. (Correction: An earlier version of this article incorrectly stated that Vista's Aero visual environment can only run on 64-bit processors. In fact, Aero can run in both the 32-bit and 64-bit versions of Vista, as long as the computer has at least a 1 GHz processor, 1 GB of RAM, and a graphics card that supports DirectX 9. Technology Review regrets the error.) It includes visual effects such as translucent borders at the edges of windows, allowing you to see what's in the window behind. There are also live thumbnails of minimized programs: rest your pointer over an item in the taskbar (that horizontal bar running across the bottom of the screen), and a small picture of the program window pops up, revealing its content. This is incredibly handy if, like me, you often have multiple Word or Excel documents open–but no different from what Apple has done for years in its Mac OS X Dock.
Regrettably, the 64-bit version of Vista has so far proved itself more of a pain than a pleasure to me. It's not possible to upgrade from a 32-bit operating system such as Windows XP Home to a 64-bit operating system, so a clean install is a must. Vista will retain all your old files and settings in a folder called Windows.old, but you still have to reinstall every piece of software after the installation. It's quite a time investment.
What's worse, my computer isn't fully functional. Before I installed Vista, I downloaded and ran a beta version of the Windows Vista Upgrade Advisor from Microsoft's website. According to its scan, my personal laptop, a Compaq Presario purchased mid-summer, was fully compatible with the 64-bit version of Vista and even capable of running Aero. All my individual bits of hardware–the wireless card, the video card, the sound card, everything–were good to go, the Advisor software said. But once I installed the 64-bit version of Vista, my speakers would not work. Turns out that the sound card in my machine is a bit older, and no one has yet built 64-bit Vista-compatible drivers for it–not Hewlett-Packard, not Conexant, not Microsoft. I realize that Vista is still in beta, but based on my Web searches, there are a lot of people with this particular problem–and it's been discussed in Vista newsgroups for months.
The usual workaround for something like this is to find third-party drivers; however, every driver I've found so far either has "known compatibility issues" with Vista and won't run it or is "unsigned." This means the software doesn't have a digital signature issued by Microsoft verifying that it was tested with Windows for compatibility. Microsoft insists that unsigned drivers compromise Windows stability and security and has decided that it will not allow users to install any unsigned drivers with the 64-bit version of Vista. (This is apparently still an option with the 32-bit version.) After more than eight hours of work, I still can't hear anything from my spiffy 64-bit enhanced PC–not even the distinctive chord that chimes each time Windows boots. Based on my Web searches, finding 64-bit driver support for older hardware, including wireless cards, sound cards, and modems, is a dicey proposition. Microsoft needs to step up to the plate here, as do computer makers selling machines with 64-bit chips, to make sure users who invest the money and time in upgrading to Vista get at least as good an experience as they have been getting from XP.
I'll spend more time with Vista over the next week, exploring its features for my magazine review (which will appear in the January print issue of Technology Review) and trying to get my sound card to work. But as soon as I'm done, I'll revert to Windows XP on my personal laptop. As chock-full of new features as Vista is, few of those I've tested manage to surpass, or even equal, the Mac OS X features. Almost none look as though they would significantly change my daily computing routine, particularly since few software makers have announced 64-bit versions of popular programs, which minimizes any real benefit to running a 64-bit operating system.
Come January, I'll take a careful look at the support HP and Microsoft are providing for older components, and I'll think pretty hard about whether it's worth investing my time and money in making the XP-to-Vista switch.
Stay connected
Illustration by Rose Wong
Get the latest updates from
MIT Technology Review
Discover special offers, top stories, upcoming events, and more.