Sensitive Nano Test for Heart Attacks, Alzheimer's
A powerful but cheap nanotech tool available this year could test for everything from genetic diseases to heart-attack signs.
An ultrasensitive DNA and protein detector, expected to be widely available later this year, could save lives by detecting genetic and infectious diseases early, before they turn deadly or spread. Its relatively low cost and simplicity will make diagnostic tests that today can be done only in specialized labs available at local hospitals. Furthermore, because it's extremely sensitive, it could detect signs of disease invisible to current tools.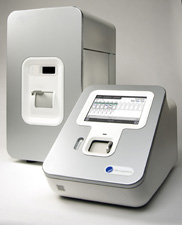 The device, which has been developed by Nanosphere, Northbrook, IL, based on research by Chad Mirkin, professor of chemistry at Northwestern University, is already being in used in several research labs and is awaiting Food and Drug Administration approval before it enters general use.
[Click here for illustrations of the process used by the Nanosphere protein and DNA detector.]
In its first application, the gold nanoparticle-based detector will tell doctors whether patients have a genetic trait that makes them likely to develop blood clots during surgery, helping doctors prevent strokes. Soon after, pending the results of ongoing clinical trials, it could diagnose previously undetected heart disease and help researchers diagnose and develop treatments for Alzheimer's disease by detecting levels of telltale proteins in the blood at concentrations "undetectable by any other technology," says Bill Moffitt, CEO of Nanosphere.
Each year 100,000 patients complaining of heart attack-like symptoms are sent home without treatment because current methods cannot diagnose some heart attacks, Moffitt says. Of these people, 20 percent die within a month, he says. And the rest have a much greater risk of dying from a heart attack in the coming year. Moffitt says that by detecting concentrations a thousand times lower that current methods of a protein released in the body during a heart attack, the Nanosphere technology may help doctors diagnose and treat these attacks.
Moffitt says the technology has already been used to detect in a blood sample a protein thought to be associated with early-stage Alzheimer's in the blood. "If this marker proves out to be indicative of the pathway of Alzheimer's, then we will have developed a simple blood test for Alzheimer's," he says. And, according to him, they should know one way or the other within two years.
Although no treatment exists yet for Alzheimer's, a definitive diagnosis tool could be used to rule out the disease in people who have symptoms of dementia caused by other factors. Perhaps more importantly, such a diagnostic ability would make it possible to develop and test new drugs for Alzheimer's, Moffitt says.
To detect DNA, chemists coat gold nanoparticles with multiple strands of DNA that are complementary to the target DNA sequence. Once these nanoparticles bind to the target DNA, they are captured on a microarray that has also been decorated with complementary strands of DNA. As light passes through the array, it's scattered by the particles, creating a pattern that can be captured with a digital camera sensor. By varying the location and density of the DNA on the array, researchers can determine the concentration of the DNA in a sample, as well as look for multiple genetic markers with one test.
Detecting proteins requires an additional step, since the DNA strands will not attach specifically to proteins. In place of DNA, Nanosphere scientists use antibodies to capture a target protein. They attach these antibodies to magnetic beads, which pull the protein out of a blood sample using a magnetic field. They also attach antibodies to gold nanoparticles, causing these particles to stick to the protein. As with the DNA detection method, these gold particles bear strands of DNA, but here these strands act, not as links to the target protein, but as labels – hundreds of them for each protein. This DNA can then readily be detected by the same microarray detection method.
Mirkin says that the Nanosphere technology is orders of magnitude more sensitive than other detection techniques, as well as fast and accurate. What's more, the technology detects DNA or proteins directly, does not require expensive and time-consuming preparation of blood samples, and can test for multiple targets at once. "It will completely change the way the world looks at diagnostics, he says. "I'm very confident that we're going to see a lot of new diagnostic tools come out of this."
Stay connected
Illustration by Rose Wong
Get the latest updates from
MIT Technology Review
Discover special offers, top stories, upcoming events, and more.